Digital Realty is planning a fourth data center in Atlanta, Georgia.
First reported by BisNow, Digital Realty has filed an application with the City of Atlanta to build a new data center adjacent to its 56 Marietta Street facility.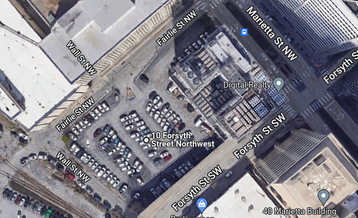 Located at 10 Forsyth Street NW, the company aims to develop a new 10-story facility with an approximate total floor area of 300,000 square feet (27,900 sqm) and approximately 130,000 sq ft (12,100 sqm) of data center white space.
The land is currently a parking lot. The hearing for Digital Realty's proposal is scheduled for early August, according to the permit.
"Demand for Digital Realty's market-leading colocation and interconnection solutions in Atlanta remains robust," Digital Realty spokesperson Helen Bleasdale told Bisnow via email. "Digital Realty remains committed to expanding its global platform to meet its customers' growing needs."
Digital Realty's existing 56 Marietta Street facility offers spans 10 floors and 153,000 sq ft and is located opposite the 55 Marietta carrier hotel, much of which recently passed ownership from American Tower to CoreSite.
Equinix recently announced it was exiting the facility at the end of the lease in 2024, saying the facility is one of a number it is exiting that "may not meet the future operational, expansion, or sustainability needs of our customers or our corporate standards."
Digital Realty has two other facilities in the Atlanta area; a nine-story, 18,000 sq ft facility at the nearby nearby 250 Williams Street NW; and the 313,000 sq ft, 28.8MW 101 Aquila Way located in Austell to the west.