San Francisco real estate investor DivcoWest has acquired a 10-story, mixed-use building carrier hotel in Manhattan, New York.
DivcoWest announced this week it had completed the purchase of 325 Hudson St., located at Hudson and Vandam streets in Hudson Square, from Jamestown Properties. The sale price was $135 million.
The company said it plans to maintain an interconnection & colocation space managed by H5 Data Centers. The real estate company will invest in the remaining space to create creative and collaborative environments for tenants.
"New York is one of the world's largest communications hubs," said Josh Simms, founder and CEO of H5 Data Centers. "H5 Data Centers will work with its customers to build upon the existing interconnection ecosystem at 325 Hudson, which consists of over 40 unique networks. We welcome the opportunity to serve a combination of international communications carriers, Internet exchanges, and rapidly-growing segments such as content distribution networks and cloud services providers."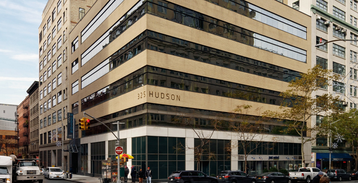 The building is "a rare proposition" for enterprises across media, life science, and office sectors, said Ariel Aber, DivcoWest's head of the New York region.
"This building offers real optionality for a variety of users," Aber said. "There is tremendous interstitial space between floors, which will appeal to research use, while the large floor plates with clear window lines will also benefit life science and creative office users,"
Major tenants listed at the 220,000-square-foot building include Industrious, RCN, Embassy Row, Empire State College, Verizon, Pilot Fiber.