Amazon reported its first $100 billion quarter with sales up 44 percent, while Google parent jumped 23 percent to $46 billion. Last week, Microsoft's quarterly results showed a jump of 17 percent to $43 billion. Looking at the important cloud portion of the trio's figures, Microsoft gained strongly on the leader Amazon Web Services while the cloud as a whole surged.
All three beat earnings forecasts, as the pandemic boosted cloud services and online shopping. Google reported its cloud figures separately for the first time, allowing analysts to size up the state of play in the cloud market. Amazon announced that CEO Jeff Bezos would step down in favor of AWS CEO Andy Jassy.
No clouds in sight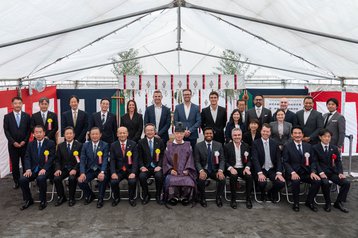 Separately, Synergy Research Group analyzed enterprise spending on cloud services, putting them at just over $37 billion, or $129 billion for the whole year. The quarter's results made a $4 billion jump on the previous quarter and were 35 percent up from the fourth quarter of 2019.
Not only is cloud growing, but the rate of growth is increasing. Synergy Research Group says Amazon and Microsoft have more than half the worldwide cloud services market, but Microsoft has reached 20 percent while Amazon has hovered steadily around 32 to 34 percent.
The Amazon figures took in Covid-19 costs, which were at $4 billion in the third quarter, and expected to reduce to about $2 billion in the first quarter of fiscal 2021, because volumes are predicted to fall. The company paid a one-time $300 bonus to front-line employees in November of last year - little more than a rounding error in the figures, since $300 to all its 1.3 million staff around the world would amount to $400 million.
The AWS cloud computing business grew 28 percent over the year to $12.7 billion - but this still left it with a small decline in market share, and was short of Wall Street expectations of $12.8 billion. The cloud division is profitable: its profits increased by 37 percent to $3.56 billion, making just over half of Amazon's profits. Overall, Amazon's profit minus costs, including shipping goods to customers, doubled to more than $7 billion.
By comparison, Google's cloud increased its share to about nine percent, but it has been making steady losses. It lost $1.24 billion in Q4, on $3.83 billion revenue. Over the year, Google Cloud took in $13.06 billion and made an operating loss of $5.6 billion.
The total for Alphabet was $46.43 billion in revenue for the quarter. It grew 23 percent over $37.57 billion in the same quarter a year ago.
Microsoft meanwhile, had 17 percent growth in revenue figures reported last year, but a larger growth of 34 percent in its cloud figures. Total revenue was $43.1 billion, with operating income of $17.9 billion (up 29 percent), and net income of $15.5 billion (up 33 percent).
"What we have witnessed over the past year is the dawn of a second wave of digital transformation sweeping every company and every industry," said Satya Nadella, chief executive officer of Microsoft.
The cloud growth is exceptional for a market that is already so big said John Dinsdale, a chief analyst at Synergy, because the cloud growth rate actually increased for the second quarter in a row. "2020 ended with a bang for the cloud market, as the sequential jump of $4 billion from Q3 easily set a new record for cloud providers' incremental revenue growth," said Dinsdale "Amazon and Microsoft tend to overshadow the market, with Amazon share staying at well over 30 percent and Microsoft growing its share from 10 percent to 20 percent over 16 quarters."
There are still opportunities for the smaller cloud providers, but apart from Alibaba, they are all losing market share, including IBM, Salesforce, Tencent, Oracle, NTT, Baidu, SAP, Fujitsu, and Rackspace.