DataQube Global, a UK startup that makes Edge data center cabinets, has raised €26 million ($29m) in a Series A funding from French investment management company Rgreen Invest
DataQube plans to make unattended data center cabinets that can be made in more flexible formats than those based on the standard ISO shipping container size. With efficient air cooling, the system can reduce power consumption, and support a high IT load per square meter. Rgreen has issued four green infrastructure funds, labeled InfraGreen I to IV, but this is its first venture in the data center industry.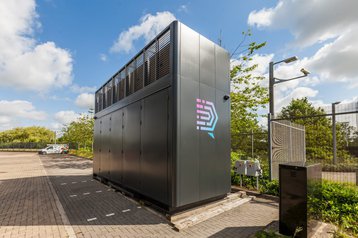 Basingstoke test
Earlier this year, property company Glendine Developments backed Dataqube for a plan to turn two properties in a Basingstoke business park into an "Edge data center campus." DataQube will deliver a 200kW module holding 20 racks to the Viables Business Park, as part of a project to redevelop two buildings for co-working space, including research & development and recreation.
"We are honored to receive backing from an organization that recognizes the importance of green infrastructure," says David Keegan, CEO of DataQube Global. "Our goal has always been to develop a sustainable solution to support the data center industry in its drive to reduce CO2 targets in line with CSR policies. Big tech firms may well be transitioning from fossil fuel to renewable energy sources, but their overall energy consumption is still growing. This needs to be addressed."
DataQube says its Edge boxes can be deployed indoors or outdoors, within six months, for half the price of conventional systems.
Rgreen's previous green investments have been mostly in renewable energy projects, with a total installed capacity of more than 2.6GW.