EdgeConneX is expanding its APAC operations with three sites in Malaysia in and around Kuala Lumpur.
Local press including Business Today and Edge Malaysia, report EdgeConneX signed a sales and purchase agreement earlier this month with Cyberview to acquire a 12.14-hectare plot of land in the city to develop a data center campus.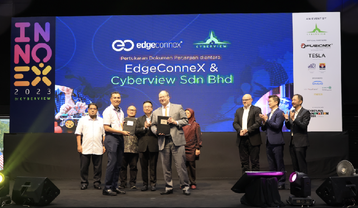 Randy Brouckman, CEO and co-founder of EdgeConneX, said: "The new campus in Cyberjaya will bring the necessary capacity and innovation to grow businesses in the tech hub, and meet increasing hyperscaler and enterprise customers' needs. The campus is also expected to create various job opportunities across construction, management, functional, and operational roles in the city."
On its website, EQT Infrastructure-owned EdgeConnex said the Cyberjaya campus will span 200,000 sqm (2.1 million sq ft) across nine buildings and include an on-site substation. The site will initially offer 22.4MW, growing to 200MW.
Kamarul Ariffin Abdul Samad, Cyberview CEO, said: "EdgeConneX's investment in Cyberjaya represents a significant achievement and positions the city as a prime destination for hyperscale data center providers. Our commitment to fostering innovation, combined with Malaysia's growing digital economy will further increase the demand for data centers to be based in our city. We also estimate technology investments of RM35 billion ($7.5bn) for the next five to 10 years which aligns with Cyberjaya's position as the preferred technology investment location."
Cyberview is a state-owned entity under the Ministry of Finance tasked with developing Cyberjaya into a technology hub. Vantage is also developing a Cyberjaya campus in partnership with Cyberview.
EdgeConneX's website has been recently updated to include two other developments in the Kuala Lumpur area of Malaysia.
The company's CBD facility spans 19,200 sqm (206,670sq ft) and will offer 6MW in phase one, growing to 17MW. The Bukit Jalil site, spanning 60,000 sqm (645,835 sq ft), will offer 22.4MW in phase one, growing to 67MW and including an on-site substation. Timelines for all three developments haven't been shared.
DCD has reached out for more information.
Update: The company has confirmed plans to develop three sites in Malaysia offering nearly 300MW of capacity.
EdgeConneX MD for APAC, Kelvin Fong, said: "The high demand for scalable, high-capacity infrastructure across the Asia Pacific region fuels EdgeConneX expansion into Malaysia. Our Malaysian data center footprint will contribute to the nation's digital economy, vibrant tech ecosystem, and passion for progress, fostering increased innovation and collaborative partnerships. We look forward to continued and shared success in the region and supporting our customer's capacity expansions into Malaysia."
More in Construction & Site Selection