Data center provider Edged Energy has broken ground on a new data center project in Atlanta, Georgia.
"We're excited to announce the groundbreaking of the Edged Atlanta sustainable data center, featuring 180MW of capacity, waterless cooling, and a 1.15 PUE on a 70+ acre campus near Downtown Atlanta," the company said this week on LinkedIn.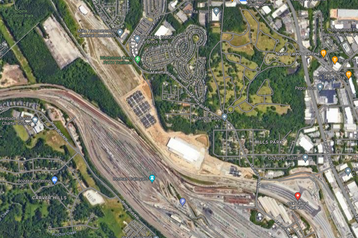 Construction of the data campus commenced on July 1. The expected completion data has not yet been shared.
Plans for the Atlanta facility were first shared in January 2023, when a building permit was filed to develop a 210,000-square-foot (19,500 sqm) two-story data center at Tilford Yard. At the time, BizJournal flagged that the applier was Endeavour, parent company of Edged Energy.
Update: Edged is actually planning two buildings on the campus, located at 1986 Marietta Road. A second, 450,000 square-foot data center, is also planned on the site.
The company bought 158 acres of Tilford Yard in Fulton County for $40 million in July 2021 from freight company CSX Corp. Over 70 of those acres have been dedicated to the data center development. At full build-out, the data center is expected to offer 180MW of capacity.
Edged Energy is still a relatively new company, with it first coming to light in 2021 when the company teamed up with Merlin Properties on data centers across Spain and Portugal, including Madrid, Bilbao, a 24MW data center in Barcelona, and Lisbon.
Earlier this year, the company began heading across the Atlantic Ocean, with plans for the Atlanta facility and another in Chicago, Illinois on which it broke ground in May 2023. The company guarantees "net zero digital infrastructure," and claims that its data centers will have a PUE of 1.15 even in the "hottest climates."
Also in Atlanta, Georgia, DataBank has broken ground on the expansion of its data center.
ATL4 will be located at 200 Selig Drive, around 10 miles away from the Tilford Yard site. According to datacenters.com, the state is currently home to 44 data centers, including those owned by Meta, ByteGrid, Evoque, T5 Data Centers, Stack Infrastructure, 365 Data Centers, Equinix, and Digital Realty among others.