Empyrion DC has secured financing from three South Korean financial institutions for the construction of its planned Gangnam Data Center (GDC).
The loan will be provided by KEB Hana Bank, Hana Capital Co Ltd, and the National Credit Union Federation of Korea, and was arranged by KEB Hana Bank and Hyundai Asset Management Co Ltd.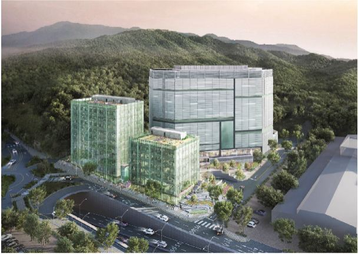 "This Financial Close is a key milestone for GDC, as it brings us closer to being ready-for-service for our customers. We look forward to GDC, helping alleviate the data center supply shortage in the greater Seoul area," said Mark Fong, chief executive officer of Empyrion.
First announced in August 2022, the GDC will be Empyrion's second data center and will be located in the Gangnam region of Seoul, South Korea.
The 10-story facility will have a capacity of 29MW according to the press release, though is promoted as having 40MW on the company's website, and has been described by the company as a 'green' data center, using 'state of the art' cooling technologies and integrated solar photovoltaics.
The loan is expected to cover costs for the construction of the building, as well as the installation of mechanical, electrical, and plumbing systems. Construction is set to commence immediately following the financial close, and the data center should be operational by the first half of 2025.
Empyrion entered into an engineering, procurement, and construction contract with Daewoo Engineering & Construction in January 2023 for a fixed lump sum, and the following monthly Empyrion secured a memorandum of understanding (MoU) with Sejong Telecom to have the latter host the national Internet backbone network at GDC.
The financial market in South Korea has faced some hurdles recently, with the liquidity crisis caused by the selloff in the Korean bond market, generally making lenders more reluctant to deploy debt.
Empyrion DC is a Seraya Partners portfolio company based in Singapore. The company has a data center presence in Singapore after the company acquired Dodid Pte. Ltd and its 12.5MW data center alongside YTL, and in South Korea. It is planning to enter other Asia markets in the future including Taiwan and Indonesia.