2021 will be a boom year for data centers in Europe, with more than 415MW of capacity added, according to a report from real estate firm CBRE.
The FLAP (Frankfurt, London, Amsterdam, and Paris) markets will put on 415MW of capacity - 100MW more than their previous peak year 2019., says CBRE's quarterly report on the market. Take-up of that capacity will be brisk, and the total supply will reach 2,200MW, with demand continuing into 2022 and 2023.
Filling data centers as fast as they're built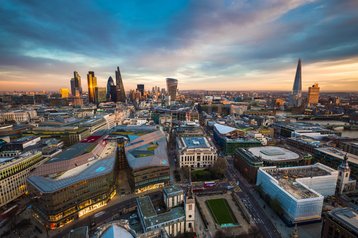 A massive amount of the new capacity is let out before it is even built, according to Penny Madsen-Jones, director of EMEA data center research at CBRE. During 2020, providers in the FLAP markets signed contracts for 440MW of new capacity - which is due to be delivered over the next couple of years.
"It is remarkable that the data center market, which has faced supply challenges, has been able to meet continued high demand," said Madsen-Jones. "Constraints have ultimately led more customers – in particular hyperscale customers – to carefully consider their data center needs for the years ahead, and this has led to high pre-let activity. This provides CBRE with amazing insight into take-up for the years ahead."
European data center building was comparatively slack in 2020, owing to the restrictions caused by the pandemic, Madsen-Jones told the DCD>Europe online event in November. However, with a continued shift to online work and retail, demand is very high for data center space, and the sector is gearing up to provide that.
Through 2021, the FLAP markets will bring on 415MW of new supply, of which some 370MW will be taken up, according to CBRE forecasts. More than 230MW of the capacity which is taken up has already been signed as pre-lets, said Madsen-Jones.
Cloud is now dominant, accounting for 80 percent of market demand, according to the CBRE figures, and hyperscale cloud providers buying wholesale space are the main consumers of data center supply. This rate of building will continue for at least the next three years, the company predicts.
"Much of the pre-let activity we have seen has been focused around existing cloud availability zones," said Madsen-Jones . "We will see even more such activity as the build-to-suit market (which builds specifically to hyperscale specifications) grows."
It's not all rosy, however, as it will become increasingly hard to source new land and reliable power: "Many markets will continue to experience challenges to site access and power where cloud availability zones exist. We expect, as a result, to see new availability zones formed across existing markets in coming years, leading to continued high demand."
During 2020, 173MW of supply was added across the FLAP markets, which saw 201MW of take-up. The markets currently operate with a vacancy rate of 19 percent, down from 21 percent a year ago.