Frankfurt has published an updated plan for commercial developments in the city, which appears to limit cloud and colocation data center building to certain specified areas.
In response to concerns that data centers were swallowing up Frankfurt's land and electrical power, Frankfurt has now published a development plan. The city says it can now meet future requirements for data centers by certifying "company-independent data centers" (cloud and colo facilities) and restricting them to the neighborhoods of Sossenheim, Rödelheim, Griesheim, Gallus, Ostend, Fechenheim, and Seckbach.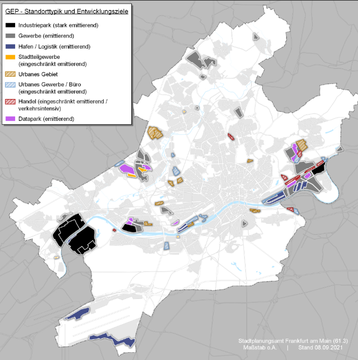 The city also plans to create a city-wide district heating plan to use data center waste heat.
In your place
In May 2021, Frankfurt announced it would produce a new plan for commercial development which would include requirements for data centers. At the time, data centers took up 64 hectares (640,000 sqm/6.9 million sq ft) in Frankfurt, and there was concern about their use of space and energy. A 2021 local magistrate's report on the Frankfurt website suggested they should in future be built taller, to take up less space, and share their waste heat to address their energy consumption.
In March, the new planning concept was set out by the head of the economic department of Frankfurt, Stephanie Wüst, and in June, the city council approved the ideas for regulating data centers, as part of an overall commercial space development program.
"There is increased growth in data centers in Frankfurt's commercial and industrial areas," said the City's announcement. The updated development plan has revised conservation and development goals and measures, it continues: "There is now a conceptual basis for enabling city-wide location control of data centers."
Uncontrolled data centers can put up land prices, and crowd out other sectors, the City said: "They trigger direct competition for space, especially for processing trades, crafts and industry."
They also affect the environment, producing emissions and increasing electricity consumption: "In order to achieve the climate goals of the city of Frankfurt am Main, urban planning specifications for more sustainable land use and development must be formulated. Future growth of data centers is to be directed to suitable spatial focal points in Frankfurt's commercial areas, the so-called suitability areas. The aim is to limit the competition for space with other commercial uses and to enable synergies."
Data centers are expected to have to meet a "Blue Angel" efficiency stamp, but details for quality and resource use are still being developed. The City's idea for a district heating system is also a task for the future.
Lars Reubekeul and Philipp Moser of law firm DLA Piper commented: "Whether this will be sufficient to meet the city's climate targets will only become clear in a few years' time."
More in Standards & Regulations