APAC real estate firm GLP has begun work on a new data center in Tokyo, Japan. The development is the company's first in the country.
GLP this week announced it has broken ground on Tokyo West 1 (TKW1), a three-building campus totaling 31MW IT load.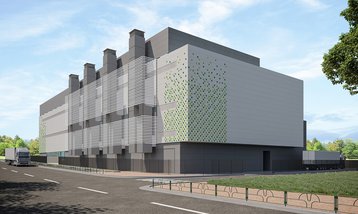 Set on a 3,400 sqm (36,600 sq ft) site, the three-story Building 1 is expected to be ready for service by February 2025 and offer 10MW across 8,700 sqm (93,650 sq ft). Buildings 2 and 3 will offer 10MW and 11MW respectively.
"This groundbreaking marks our first data center facility in this region and represents a significant milestone as we further establish our digital infrastructure business to be a leading provider in Japan. As a rising data center hub in Asia, Tokyo is a prime location for our entry into the market and we look forward to serving hyperscale and enterprise customers' data capacity needs in this region," said Yoshiyuki Chosa, president and CEO of GLP Japan. "We will leverage our expertise, scale, and synergies with our renewable energy business to provide customers with sustainable digital infrastructure to power the future."
TKW1 will be constructed to LEED Gold certification standards, and the company said the site will partner with GLP's renewable energy business to offer renewable energy options to customers.
Last year the Singapore-based logistics-focused real estate firm said it planned to invest ~$12 billion over the next five years to deliver 900MW of data center capacity in Japan, which it said would make the company one of the leading data center operators in the country.
"We are thrilled to celebrate the first of many groundbreakings in Japan as we begin to deliver capacity to both local enterprise and global hyperscale customers. With more than 600MW of IT load currently available across our four planned campuses in Tokyo and one in Osaka, we are positioned to deliver sustainable, safe, secure, and reliable data center solutions to satisfy current and future demand from business application, cloud, and AI computing deployments," added Jennifer Weitzel, president of Global Data Center Business of GLP.
Founded in 2009, GLP is a global investment manager in logistics, digital infrastructure, and related technologies. The company has previously said that it had built "a competitive data infrastructure business" after investing in Chinese data centers in 2018. In 2019, GLP acquired a 60 percent stake in local data center company Cloud-Tripod.
The company doesn't have a complete list of data centers on its website but says it currently has seven in-flight campuses across Japan, UK, and Brazil, totaling more than 850MW of power currently available and, combined with the Americas, more than 1,500MW in its global pipeline.
In China, the company also has data centers in Changshu and Huailai, and says it could reach 1.4GW of in-market capacity in the future.
Last year PropertyWeek reported GLP was considering nixing plans to build a multi-story warehouse in the Newham area of London in favor of a potential data center scheme.
Back in early 2021, the investor was believed to be considering cashing out of the sector - selling its business to Chinese cloud & data center firm GDS Holdings for $8-10 billion. But the deal cooled amid a valuation disagreement.