Goldman Sachs has invested $250 million in Hydrostor, a Canadian company developing underground advanced compressed air energy storage (A-CAES) systems to help balance energy supply and demand.
The investment will support Hydrostor to deliver the projects it currently has in progress in Australia and California, which will have a total energy storage capacity of 8.7GWh, and deliver power at 1.1GW. The funds will also help get new projects underway, and will be tied to specific project milestones based on Hydrostor's needs for capital.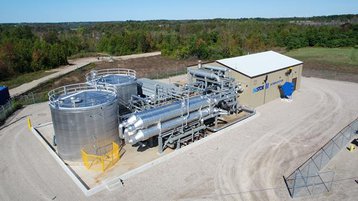 Hydrostor's A-CAES systems take an intermittent energy supply from renewable sources such as solar farms and wind turbines, and turn it into an on-demand source, by storing it for release when needed.
Pressure to deliver
The company's A-CAES systems compress air, and then store it underground, using water to hydrostatically maintain the pressure and store the energy. Hydrostor installations pump the compressed air into underground caverns, where it displaces water which flows up into a lake on the surface. When the air is pressurized, it generates heat which is removed and stored, so it can be reused when the gas is allowed to expand again.
Hydrostor has a commercially operating A-CAES installation at Goderich in Ontario, Canada, and has three other projects in development: the 500MW Gem in California, 200MW at Broken Hill in New South Wales, and 400MW at Pecho in California, with total capacities of 4,000 MWh, 1,600 MWh, and 3,200 MWh respectively.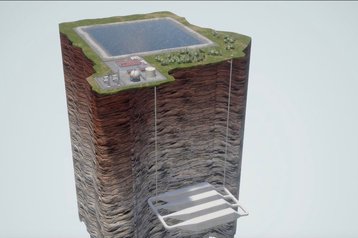 Compressed air storage is a major contender to solve the problem of matching intermittent power supplies to the demands of the grid, potentially enabling fluctuating supplies from sources like wind farms to completely supply continuous power usage by customers such as data centers.
Curtis VanWalleghem, CEO and co-founder of Hydrostor, said: "We are delighted with this investment by Goldman Sachs. It is transformational for Hydrostor and validates the competitiveness of our proprietary A-CAES solution as well as the strength of our pipeline of potential projects."
Charlie Gailliot, partner and head of energy transition private equity investing within Goldman Sachs Asset Management, said: "As the world continues transitioning to sustainable and renewable energy sources, the need for utility-scale long-duration energy storage is clear, and Hydrostor's A-CAES solution is well-positioned to become a leading player in this emerging global market."
Hyrdostor's existing investors, including ArcTern Ventures, Lorem Partners, Canoe Financial, and Business Development Bank of Canada, all remain on board.