A company affiliated with Google has purchased 143 acres of land in the same South Carolina industrial site where Google operates an existing data center.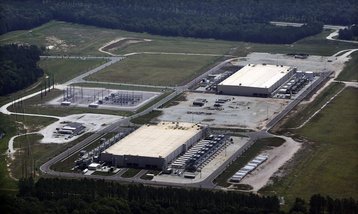 The land is at the Moncks Corner industrial site in Berkeley County, and was purchased by Arum Composites LLC for $28.5 million.
It is comprised of five parcels across Mount Holly Commerce Park Cypress Gardens Road and Garrott Avenue and includes around 10 acres of wetlands.
The land was purchased on September 13 from seller Century Aluminum.
What Arum, or Google with which it is associated, intends to do with the site has not been shared.
It is worth noting that Arum also purchases land for other companies and developments outside of the data center industry.
Google's existing data center in Berkeley County, South Carolina, has been operational since 2007. The data center has been expanded several times over the years, bringing the total investment in the site up to $2.9 billion.
According to the company's latest ESG report, the data center consumed 662.1 million gallons of water in 2022.
Google is planning or developing data centers in several states across the US, including Missouri, Texas, Nebraska, and Arizona.