Google Cloud's CEO Diane Greene will step down in January, after running the division for three years.
She will be replaced by former Oracle product chief Thomas Kurian, who will join Google Cloud on November 26th and transition into the top job in early 2019. Greene, who said that she wants to spend her time mentoring female founder CEOs, will remain a director on the Alphabet board.
Bringing some of that Oracle magic?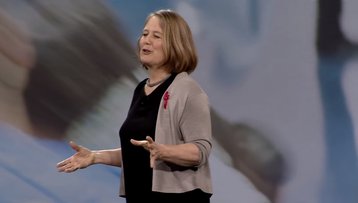 "The Google Cloud team has accomplished amazing things over the last three years, and I'm proud to have been a part of this transformative work," Greene said in a blog post announcing her departure.
"We have moved Google Cloud from having only two significant customers and a collection of startups to having major Fortune 1000 enterprises betting their future on Google Cloud, something we should accept as a great compliment as well as a huge responsibility."
Greene, best known for co-founding VMware, joined Google Cloud in November 2015 after the company acquired her cloud-based developing platform Bebop for $383 million. Tasked with closing the gap on rival cloud services AWS and Azure, which had a huge lead, Greene embarked on an aggressive acquisition and expansion policy.
To name but a few, in 2016 the company acquired Synergyse, a business built around teaching customers how to use Google cloud apps; and in 2017 it bought video streaming company Anvato, which was soon followed by Orbitera, a startup that develops a platform for buying and selling cloud-based software, for over $100m.
Then, in one of the company's largest acquisitions to date, it bought API management company Apigee for $625 million.
Backed by billions in infrastructure investment, Google Cloud rapidly added new cloud regions, growing from four in May 2016 to 18 today. It hired extensively, bolstering its sales staff and doubling down on artificial intelligence and machine learning initiatives.
All this helped the Cloud division grow swiftly year over year, with its enterprise division - consisting of Google Cloud Platform and its G Suite work apps - hitting $4 billion in revenue on an annualized basis this February.
And yet, in a testament to the incredible success of Amazon Web Services and Azure, and the sheer size of the cloud market, Google's efforts in the space cannot be seen as a resounding success. Despite all its growth, and all the money spent, Google lags far behind the two leading cloud players - in the third quarter of this year alone, AWS generated revenues of $6.68 billion, and it continues to grow apace.
Under Greene, Google Cloud also struggled to deal with how it should work with the US military. Originally, the company worked in secret on a military drone video analysis contract, but was met by internal protests and resignations when 'Project Maven' was made public. Faced with growing opposition from its own staff, the company stopped competing for military contracts, including the $10bn JEDI program (which it also lacked certifications for).
In the same month Greene was hired, senior VP of technical infrastructure Urs Hölzle said that "the goal is for us to talk about Google as a cloud company by 2020." Then, in April 2017, Greene claimed that "we have a pretty good shot at being #1 in five years." Whether either of those goals will be met is up for debate.
In her departing message, Greene added: "When this journey started, some people would say that Google had great technology but they weren't sure that customers would rely on Google as their enterprise partner. At our recent Google Cloud Next event in San Francisco, we had over 23,000 attendees, representing 10x growth from 2016. With nearly 300 customers speaking about how Google Cloud is helping to transform their businesses, no one was questioning our seriousness or our abilities."
Now, under Kurian, Google is likely to increase efforts to court enterprise businesses. A 22 year veteran of Oracle, Kurian oversaw development of Oracle's roughly 3,000 products before his departure in September, reportedly due to a dispute over the company's cloud strategy.
With Oracle significantly behind in its own public cloud efforts, Bloomberg reports that Kurian wanted to make more Oracle software available to run on competing public clouds like AWS and Azure. Company founder Larry Ellison, who has publicly bad-mouthed AWS on multiple occasions, disagreed. As a result, Kurian took leave from the company, and ultimately left.
"I'm excited to join the fantastic Google Cloud team at this important and promising time," Kurian said. "I'm looking forward to building on the success of recent years as it enters its next phase of growth."