Chindata was judged the greenest data center company in Greenpeace's second annual Clean Cloud report for China. Tencent took the top spot for cloud providers.
However, that's not a massive achievement, as China's cloud and data center operators are mostly powered by coal, and showing little enthusiasm for renewable energy, or revealing any data about their environmental record. Greenpeace ranked 22 companies and found that 13 had begun to procure renewable energy - but only two reported more than three percent renewable energy usage. And Greenpeace found an alarming lack of consistency: last year's leader in the cloud category Alibaba has tumbled to fourth place.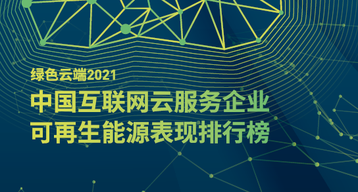 China takes small steps
"To date only one major Chinese tech company, data center operator Chindata Group, has pledged to achieve carbon neutrality by 2030," says the report. "Last year Chindata signed contracts to develop 1.3 GW of wind and solar projects in Shanxi and Hebei provinces, making the company one of the top three renewable energy buyers worldwide in 2020."
ChinData stands out with 51 percent renewable energy, and Baidu follows with 8.6 percent, with the others all either reporting less than three percent - or failing to report their figures. GDS got a roasting for its poor transparency and lack of commitments, falling from second place in the Clean Cloud 2020 report to sixth in the data center class.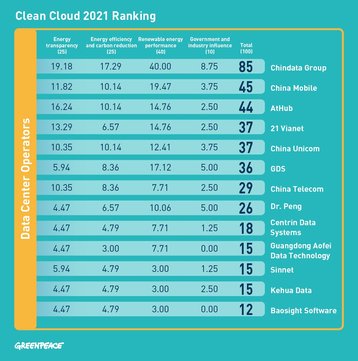 Despite the slow progress, China's data center operators are taking similar kinds of actions to those in the West, including paying to build renewable energy capacity by investing in large wind and solar projects, by direct power purchases, and by using green power certificates.
Over amongst the cloud providers, Tencent has promised to work towards climate neutrality. It's a measure of the slow pace of change and the general lack of transparency amongst China's operators, that this commitment, without any timeline or roadmap, is enough to give Tencent the top spot in cloud providers.
Last year, the leader was Alibaba, which has yet to issue any carbon neutrality or renewable energy commitments. This year, Alibaba has been dropped down the rankings, falling below Baidu and Tencent which both publicly disclose their greenhouse gas emissions.
"China's internet sector is powered primarily by coal, and the industry's energy consumption continues to rise," said Greenpeace East Asia climate and energy campaigner Ye Ruiqi. "Over the past year, more Chinese companies have begun to procure renewable energy and to disclose greenhouse gas emissions data. However, the pace of clean energy adoption is not nearly fast enough, especially when we consider that China's biggest tech company, Alibaba, and its biggest independent data center operator, GDS, have yet to issue renewable energy or carbon neutrality commitments."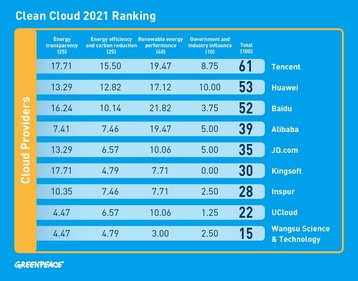 Data centers due to out consume Australia
The slow progress in renewable energy usage is especially concerning given the sector's massive growth. Energy consumption by the Chinese data center industry is set to grow by 66 percent between 2019 and 2023, at which point electricity consumption from the industry is projected to rival that of Australia. And in 2018, data centers in China got 73 percent of their energy from coal.
Greenpeace wants China's internet companies to set targets for 100 percent renewable energy use and achieve carbon neutrality by 2030 - including the Scope 3 emissions of their supply chains. While some may be using carbon offsets, this is not a long-term substitute for cutting their fossil fuel, says the report: "Companies must scale up procurement of wind and solar energy, and actively disclose energy use data and greenhouse gas emissions data."
Ye continued: "Tech giants like Alibaba and GDS have an opportunity to drive China's shift to a low-carbon economy, but currently they are falling behind their competitors. Ultimately, we need all of China's major tech firms to achieve 100 percent renewable energy use and carbon neutrality across the value chain by 2030 - this would lend strong momentum to China's national climate commitments."
China as a whole is bound by a promise by a September 2020 promise by China's President Xi Jinping to achieve carbon neutrality by 2060.