Dialog, DLR, and DEWA have all inaugurated new satellite ground stations, in Sri Lanka, Germany, and the United Arab Emirates (UAE) respectively.
In Sri Lanka, local telco Dialog Axiata has launched a new broadcast center and satellite Earth station in Puttalam.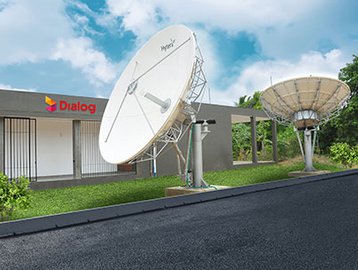 The company unveiled the new facility this week, saying Dialog built it to ensure and deliver the highest level of reliable television services to its customers. The company's primary broadcast center and Earth station are located in Malabe.
Pradeep De Almeida, Group Chief Technology Officer of Dialog Axiata PLC said: "As Sri Lanka's premier Pay TV service provider, Dialog Television is fuelled by its single-minded purpose of providing unparalleled world-class entertainment and edutainment services to our customers. In line with the same, this state-of-the-art Dialog Television Broadcast Centre and Satellite Earth Station will help ensure that our customers receive uninterrupted Television services at all times. With our cutting-edge infrastructure, we will continue to carry forth our promise of delivering Sri Lanka's #1 Television experience to homes island-wide".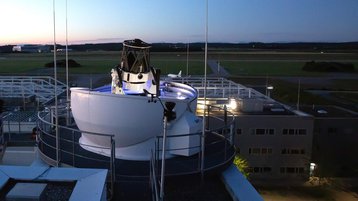 In Germany, the German Aerospace Center (DLR) this month inaugurated a new optical ground station at its site in Oberpfaffenhofen in Bavaria. The new ground station will be used to test optical satellite network connections.In tests close to the ground, the institute previously achieved a transmission rate of 1.72 terabits per second in 2016 and 13.2 terabit per second in 2017.
The core of the new optical ground station is a new telescope with a diameter of 80 centimeters in a so-called Coudé arrangement, in which the light from the telescope is guided directly into a laboratory below via mirrors. This enables completely new experiments that could not previously be carried out in this form.
"In the future, it will become increasingly important to network satellites efficiently and to ensure data exchange with the ground is secure and efficient in view of the ever-increasing amounts of data in communication, navigation and earth observation, as well as against the background of increasingly scarce radio licenses," said Prof .Dr.-Ing. Anke Kaysser-Pyzalla. "Optical free-space communication offers a promising perspective here, the diverse possibilities of which we will test and further develop with the newly expanded ground station in Oberpfaffenhofen."
This month also saw UAE utility the Dubai Electricity and Water Authority (DEWA) inaugurate a new ground station at the Research and Development Center in the Mohammed bin Rashid Al Maktoum Solar Park. The independent ground station, which is part of DEWA's Space-D program, is capable of tracking and communicating with DEWA's satellites at their low Earth orbit of 400-700 kilometers.
DEWA'S Space-D program aims to use nano satellites and remote sensors/IoT technology to better maintain and operates its electricity and water utility networks.
In January 2022, DEWA launched the 3u DEWA-SAT 1 nanosatellite in collaboration with NanoAvionics, By the end of 2022, it plan to launch a 6U nanosatellite with customized high-resolution image sensing technology to be specifically designed for DEWA to communicate with its IoT terminals.