Halliburton has teamed up with Accenture to enter into a five-year strategic agreement with Microsoft Azure.
One of the world's largest oil field service companies, Halliburton joins a growing number of companies that have turned to the cloud to maximize their ability to extract fossil fuels.
"The scientific consensus is clear. The world confronts an urgent carbon problem. The carbon in our atmosphere has created a blanket of gas that traps heat and is changing the world's climate," Microsoft president Brad Smith said in a blog post last year announcing the company's plan to be carbon negative by 2030.
"The world's climate experts agree that the world must take urgent action to bring down emissions."
A hot deal during one of the hottest years on record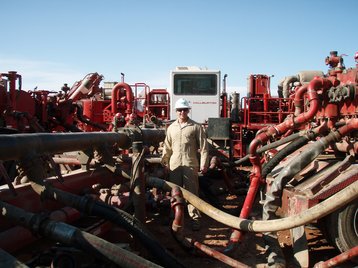 As part of the partnership, Halliburton will fully migrate from its physical data center deployments by 2022. The full extent of its footprint is not known, but it moved much of its workloads to a CyrusOne data center in Fort Worth back in 2008, and was an IBM Cloud customer in the past.
The company plans to use Halliburton for storage and processing, as well as improve its real-time monitoring of remote operations, and use machine learning and AI tools to improve its analytics capability with the Halliburton Data Lake.
"The strategic agreement with Microsoft and Accenture is an important step in our adoption of new technology and applications to enhance our digital capabilities, drive additional business agility and reduce capital expenditures," Jeff Miller, Halliburton chairman, president & CEO, said.
"We are excited about the benefits our customers and employees will realize through this agreement, and the opportunity to further leverage our open architecture approach to software delivery."
Miller was named CEO in 2017, but joined the company several years before the Deepwater Horizon explosion. A government investigation found that the company was jointly at fault, along with BP and Transocean, for the devastating oil spill.
In 2010, the company pleaded guilty to destroying computer simulations it had performed after the accident, which contradicted its claims that BP had not followed its advice.
The company has faced corruption charges in Nigeria, claims of profiteering in Iraq in collaboration with Vice President (and former Halliburton CEO) Dick Cheney, and is responsible for various environmental disasters.
Most recently, US Secretary of the Interior Ryan Zinke was accused of violating federal ethics standards in a land deal that benefited then-CEO David Lesar. Both individuals resigned, with Zinke calling the story "fake news."
The world's largest fracking company, and a huge supplier of equipment to other fossil fuel companies, Halliburton has extensively lobbied against the findings of climate science, helping delay the global response to the crisis.
"Moving to the cloud allows companies to create market-shaping customer offerings and drive tangible business outcomes," Judson Althoff, the EVP of Microsoft's Worldwide Commercial Business who previously called climate change one of our era's most pressing challenges, said.
"Through this alliance with Halliburton and Accenture, we will apply the power of the cloud to unlock digital capabilities that deliver benefits for Halliburton and its customers."
A brief search of Azure's website finds that it counts BP, Shell, Eni, Petrofac, ExxonMobil, Chevron, Oilfield Solutions, and Volga Gas among its many customers.
"Visualize reservoir simulations to increase drilling hit rates using high-performance computing (HPC)," Microsoft's 'Azure for the energy industry' page states. "Improve decision-making and reservoir production using IoT drilling sensors and advanced analytics," it adds.
A Greenpeace analysis earlier this year noted that "Microsoft can never truly achieve its recently announced 'Carbon Negative' goal while continuing to aid the oil and gas sector with exploration and production."
The group calculated that Microsoft's contract with ExxonMobil alone "could lead to emissions greater than 20 percent of Microsoft's annual carbon footprint."
Rivals Amazon Web Services and Google Cloud are also serving and pursuing major fossil fuel contracts, although Google has promised to longer develop custom AI/ML solutions to facilitate upstream extraction.
The efforts are in stark contrast to the companies' internal carbon emission reduction efforts.
By 2050, Microsoft hopes to have removed all the carbon it has emitted since its founding in 1975. This includes in its Windows business, its employee travel and offices, and its cloud data centers.
It does not, however, include the impact of any workloads occurring within those data centers.
"We believe that Microsoft's most important contribution to carbon reduction will come not from our own work alone but by helping our customers around the world reduce their carbon footprints through our learnings and with the power of data science, artificial intelligence, and digital technology," Smith said last year.
"For many customers, sustainability is already a core part of their business, while others are just beginning their work to mitigate their carbon impact. Regardless of where organizations are on their journey, we're committed to being of help."
It is not clear where Halliburton is in its sustainability journey. "I think economics sort of trumps aspiration," Miller said at a State of Energy luncheon in 2018.
"Nothing is more abundant, affordable, and effective than oil and gas."