The province of Noord-Holland in the Netherlands faces a shortage of drinking water if data center expansion continues in the area, according to internal documents.
De Telegraaf reports that the two existing Microsoft and Google data centers in the Hollands Kroon municipality consume an estimated 525 cubic meters of drinking water per hour, totaling 4.6 million cubic meters a year.
Internal documents warn that a further 10 million cubic meters of drinking water per year would be needed if the five new data centers want to grant licenses to build, which could endanger the supply of sufficient drinking water to households.
"During extreme weather conditions, a freshwater shortage may occur in North Holland," according to an internal webinar in which dozens of officials participated in November 2020.
For more breaking data center news, features, and opinions, be sure to subscribe to DCD's newsletter
More data center conflict in Hollands Kroon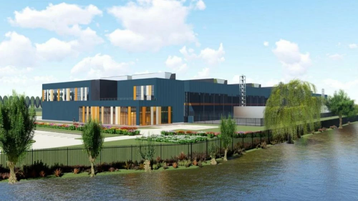 The documents also expressed concern about the chemicals used to kill bacteria and prevent limescale in the data center, saying there isn't a record of what chemicals are used or in what quantities.
Public administration professor Michiel de Vries, who was in attendance for the webinar, told De Telegraaf he found the information "disturbing" and that regulation around data centers should be tightened.
"Permits are now being issued with their eyes closed, without the government wondering whether additional requirements should be made. It is even written that once built data centers cannot be set new requirements. So once they are there, they can consume water and discharge polluted water as much as they want."
Minister CoraVan Nieuwenhuizen said the news was "quite alarming" and local officials must clarify the situation.
"We will see to it that the drinking water supply is not endangered," she said.
Google told De Telegraaf it meets all requirements and has all licenses, but acknowledges that water is discharged onto a canal, "in accordance with the permit issued for this purpose by the responsible authorities." Microsoft also said it adhered to all required licenses, and uses direct air cooling for most of the year, while evaporated water is used to cool the data center when required.
"The conditions of these operations are well adapted to the Dutch climate, which means that our annual water consumption is up to a minimum is limited," the company said.
Cees Loggen, deputy for spatial planning of the province of Noord-Holland, said in a blog that Nord-Holland officials hadn't released the report drew from too small of a sample size to come to well-founded conclusions.
"We want to have a good insight into the water consumption by water users, such as data centers, and what the impact is on the surface water," added Loggen, "in combination with the longer and warmer summers and the higher water consumption."
Data centers have become a common issue of debate in the area in recent months. Last month Microsoft was faced with the prospect of 'enforcement proceedings' after a dispute between municipal and provincial governments led to the company having its data center license revoked.
The province of Noord-Holland over-ruled municipality of Hollands Kroon, saying the former was the competent authority to authorize data center licenses, not the latter, and so Microsoft was left 'operating/establishing an establishment without a permit.'
Microsoft was granted an environmental permit to build its second data center in Hollands Kroon, Northwest Netherlands, in January of this year. It has been controversial with locals and industry, with a local agricultural association filing an appeal against the proposed facility last month.
Update: The Dutch Data Center Association has reached out to DCD, saying the water figures used in the webinar are 'based on incorrect figures and assumptions.'
"[StatLine] Figures show that all data centers in the Netherlands combined use 0.088 percent of the total tap water. This total consumption of all data centers amounts to 1 million cubic meters on an annual basis, which is less than a quarter of the 4.6 million cubic meters mentioned in circulating reports," the DDA said.
"The residents of North Holland can always count on reliable drinking water flowing from the tap, even during a heatwave. We currently supply 0.6 percent of our total supply as cooling water, including to data centers," added Ria Doedel, Director of PWN, the water supply company for North-Holland.
"We are investigating alternatives to industrial water together with our customers and large commercial consumers in the water chain. We know that the demand for water is increasing, and we are preparing for that. Our starting point is that we will not supply water of drinking water quality in the future if it is not necessary for use."