A Tier III (Design) data center has been built in Cameroon by a Chinese consortium that includes Huawei.
The $15m Camtel NBN II, also called the Zamengoe data center, is a 3,000 sq m (32,000 sq ft) facility on the outskirts of Yaounde, the capital of Cameroon. It was funded with a loan from the Chinese government.
A safe haven for Huawei
Huawei equipped the building, which consists of five halls and a 400 sq m (4,300 sq ft) server room.
Zamengoe features an access management system, surveillance cameras, fire-fighting system, automated 440kW energy management system, and four standby electric generators of 1,000 kVA with a 40,000-liter capacity.
The project was financed by the Chinese state-controlled Exim Bank of China, developed by Cameroon Telecommunications (Camtel), a local state-owned telco, and built by China Shenyang International Cooperation - also owned by the Chinese state.
Camtel NBN II will host Government agencies, educational bodies, telcos, financial institutions, retailers, and - it hopes - hyperscalers.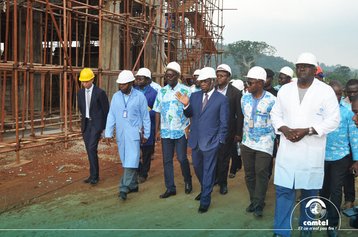 5G South Africa
Huawei also announced its partnership with South African telco Rain (stylized as rain) to rollout the Rainbow Nation's Standalone 5G network.
Rain's SA 5G is currently available in a few regions in South Africa, including Cape Town, Claremont, Goodwood, Bellville, and Durbanville.
Huawei will deploy new base stations, and share facilities and solutions with Rain to help it conduct the rollout quickly and cheaply.
5G comes in two versions either SA or NSA (non-standalone) networks, with the former being independent of 4G infrastructure.
In the first phase of rollouts, Rain will deploy a number of 5G sites in Johannesburg.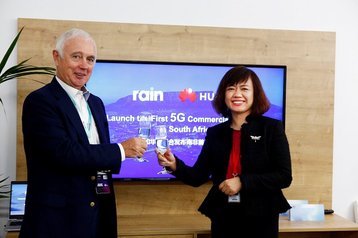 "The network will provide fiber-like speeds without the installation complexities, time delays and cost of laying fiber in under-serviced areas," Rain CEO, Willem Roos, said.
"Rain is excited to build South Africa's first large scale 5G network which can provide fast wireless Internet to more citizens."
Jacqueline Shi, president of Huawei Cloud Core Network Product Line, added: "It is an important step to work with Rain in bringing the first 5G network construction in South Africa.
"With our leading solutions, we are committed to working with operators and partners to build future-oriented networks for smooth evolution and migration for the maximum value out of their investment and the best user experience."
The announcement comes after several severe setbacks for Huawei following several countries banning the company's 5G equipment outright, including the US, UK, and Australia. The CFO of Huawei is also under threat of extradition to the US by Canadian authorities.
Chinese companies have been investing heavily into Africa, with Huawei spearheading most of the initiatives by China to reach out to the continent.
In April last year, Huawei agreed to deliver a data center, smart city, and surveillance project in Kenya for 17.5bn shillings ($172.7m).
Called the Konza Technology City, the new project will be funded with Chinese-state backed loans. These concessional loans offer better rates than regular credit facilities.
It was also agreed that Huawei was to build a National Cloud Data Center, Smart ICT Network, Public Safe City and Smart Traffic Solution, and a Government Cloud and Enterprise Service.
Back in 2017, Zambia also agreed to work with Huawei and opened up a $75m data center as part of the Smart Zambia project by the country where it hopes to digitize its economy by 2030.