A Kmart HQ and data center in Troy, Michigan, will be demolished in the coming weeks.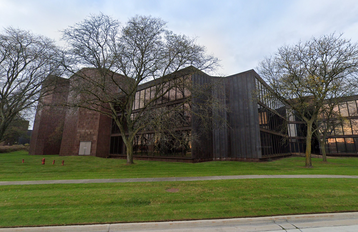 The facility spans 906,000 sq ft (84,170 sqm) and is located at 3100 W. Big Beaver Road on a 40-acre site.
There are currently no post-demolition plans for the site that have been publicly shared.
The headquarters has been empty since 2006, when Kmart officially relocated its headquarters to Hoffman Estates Illinois, following the company's merger with Sears.
The Big Beaver Road building is notable for its unusual architecture which earned it the nickname "Fort Kresge" after the Kmart corporation's name at the time, S.S. Kresge Co.
The building comprised three modular units with an octagonal tower in each corner for stairways, toilets, and HVAC equipment. In the 1970s, at the time the building was being designed by Smith, Hinchman & Grylls Associates, it won numerous architecture awards and accolades.
"It won a national design award from the American Institute of Architects, and that is a very rare win. There aren't many in Detroit that I can think of that have won national AIA awards," said Carl Roehling, former CEO of the SmithGroup architecture firm, which is the successor to Smith, Hinchman & Grylls.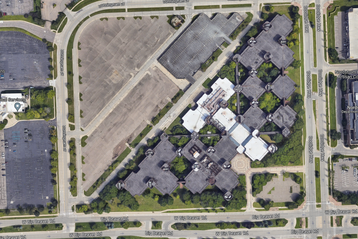 In the basement of the building was the company's data center. According to Joan Booker, a Kmart computer programmer who worked at the company between 1985 and 1999, the basement was home to a variety of IBM mainframe computers that ran the COBOL language, as well as several strong air conditioners.
Appropriate to the time, the mainframes stored data on magnetic tapes, giant disks, or punch cards, and prior to the arrival of the Internet would receive sales and inventory data from Kmart stores via satellite dishes at the rear of the headquarters.
Booker stated that later on, the company built a separate data center on Cunningham Drive which it would continue to use after ditching the Troy HQ and being bought by Sears.
In 2013, Sears announced that it would transform around 2,500 retail locations into data centers and disaster recovery spaces. The idea was met with criticism, with Dick Seesel, principal of Retailing in Focus writing: "This is the latest example of Sears Holdings management floating a 'big idea' to gain traction from its real estate portfolio. Most of these ideas have not turned into reality, but they serve to distract SHLD from the necessary task of investing in its actual brick-and-mortar stores. The quarterly losses and sales declines won't stop anytime soon with this scattershot approach."
The project seemingly did not come to fruition, and Sears went bankrupt in 2018
Kmart sold Fort Kresge to investors in 2005 for $41.5 million. It was planned for demolition even then to make way for condos, retailers, offices, and a hotel. These plans fell through during the recession, and the property was then bought by the Forbes and Frankel families in 2009 for $17.5 million.