Lenovo has joined an Iceotope-led partnership which produces liquid-cooled chassis-level data center equipment, to produce an integrated immersion-cooled micro data center for HPC.
The new partner is providing ThinkSystem SR670 servers for the liquid cooled racks which were announced in 2019 by a group including Iceotope, rack-maker Avnet, and Schneider Electric. The resulting micro data center can be used for HPC in any location - i.e. without needing a special data center building.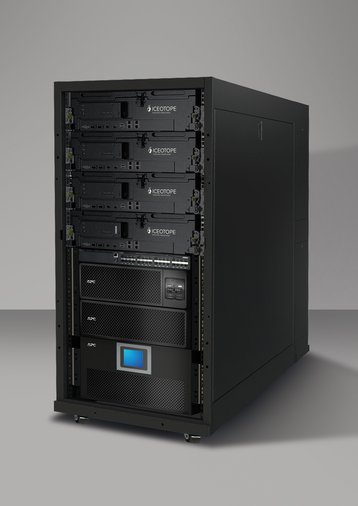 How Ku:l is that?
The Ku:l (pronounced "kewl") micro data center is available in two versions. A small half-rack 24U system includes up to four of the Lenovo servers, and uses less than 5kW. The medium-sized version includes up to 16 of the servers in full-sized 46kW racks and can be scaled up by including as many of those racks as needed. The systems use Schneider's NetShelter enclosures.
The GPU-rich system is based around the 2U ThinkSystem SR670 rack server, which includes up to four double-width GPUs per server. It is "sealed at chassis level" and has no fans or moving parts, it doesn't need air conditioning or a contained hot aisle, and can be deployed close to where data is generated and used, however harsh the environment, says the Iceotope release.
More than 95 percent of the heat is captured by a heat rejection unit (HRU). In the small 5kW version, a dedicated 5U HRU is built into the rack. For systems delivering 46kW or more of computing, a dedicated external HRU is used. If the system is deployed within an existing data center, an in-row liquid-to-air HRU is available, with a cooling distribution unit (CDU).
Both systems are monitored with Schneider's EcoStruxure IT, and full lifecycle support is offered, including installation and decommissioning.
Inside the racks, standard-sized servers are installed in Iceotope's Ku:l chassis, where they are partially immersed dielectric coolant delivered to hotspots. With no moving parts, the hardware should need fewer services. It can also be sealed to exclude dust, pollution, and condensation, which should be a benefit for Edge locations.
As well as Schneider's EcoStruxure DCIM, the system can pack a MaaXBoard IoT single board computer to enable RedFish-compliant, out of band management of the IT equipment even when the servers are powered down
"The infrastructure to provision edge expansion will be installed where space provides, outside traditional data centers – we call this the Fluid Edge," said David Craig, CEO Iceotope. "Iceotope is dedicated to ensuring the durability, reliability, efficiency, and long-term viability of Fluid Edge facilities, where air-cooled approaches have a limited future. Partnering with Lenovo to bring the Ku:l Micro DC to life has accelerated our capability to provide a proven and warranty-backed, chassis-level immersion-cooled HPC design solution to this expanding market."
"This integrated, immersion-cooled solution brings highly intensive and efficient compute capability that 'drop into' applications from the edge to large scale HPCs," said Steven Carlini, VP innovation and data center, Schneider Electric.