Mesa City Council has voted to approve a development agreement for a large Google data center in the Phoenix, Arizona suburb.
The $1 billion facility will span 750,000 square feet (70,000 sq m) once fully built out. The deal was negotiated over the past year under the codename 'Project Red Hawk,' with Google operating under the pseudonym 'Stone Applications, LLC' as it sought planning permission for the data center on 187 acres of farmland on the northwest corner of Elliot and Sossaman roads.
Phoenix rising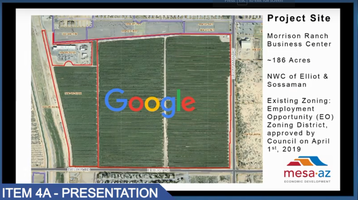 As part of the deal, Google promised to achieve certain milestones before specific dates. Those dates, listed below, are the latest Google should achieve the goals by, but it could complete them years earlier if it wishes:
July 2025 - Milestone I - Minimum of $600m in capex, $180m in taxable construction cost of 250,000 square foot of development
July 2027 - Milestone II - Minimum of $800m in capex, $240m in taxable construction cost of 500,000 square foot of development
July 2029 - Milestone III - Minimum of $1bn in capex, $2300m in taxable construction cost of 750,000 square foot of development
The city will supply the data center with some one million gallons of water per day for cooling at launch, which could increase to nearly four million per day as the site is built out. "Project Red Hawk will also have sufficient emergency back-up supplies for water, which includes utilizing on-site storage, existing wells on their site, acquiring their own water rights and supplies, and transferring long-term storage credits to the City," a slide shown during a council study session notes.
As part of the deal, Mesa City will give Google a property tax break of $16 million over 25 years under a Government Property Lease Excise Tax (GPLET) that replaces a real property tax with an excise tax.
But Mesa said that it predicts the development will still bring in $33m in excise taxes, and $28m million in other taxes for the city during that timeframe. When including state and county taxes - and with electricity sales taxes based on the assumption of a 150MW development - that total could rise to $156m in taxes over 25 years.
"I think the amount of revenue that it will be generating, it's a win for Mesa," Councilman Jeremy Whittaker - who abstained from the vote because he owns Google stock - told The Arizona Republic. But he added that he was concerned by the tax break that is more often provided to large corporations than small businesses that "power our country."
The facility will be part of the Elliot Road Technology Corridor, also home to data centers run by Apple, EdgeCore and Digital Realty.
Elsewhere in Mesa, Google sister company Waymo operates an 85,000 square foot (7,900 sq m) Technical Service Center, a hub from which it runs self-driving car trials, Waymo One. In Atlanta, it has enlisted Waymo trucks to deliver equipment to its data centers.