A new Meta-owned cable is to connect northern Spain with the east coast US.
First spotted by industry observer Philippe Devaux, Meta-owned Edge Cable Holdings has filed with the FCC for a new private cable system known as Anjana.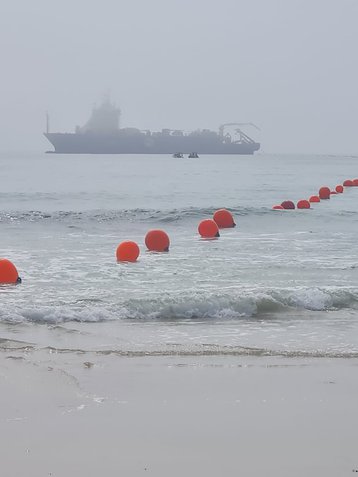 The 7,121km cable is reportedly set to run from DC Blox's cable landing station (CLS) in Myrtle Beach, South Carolina to a new Telxius-owned CLS in Santander, Cantabria.
The NEC-built cable is set to offer 480Tbps across 24 fiber pairs. The laying is set to start in August 2023 for a Q4 2024 go-live date.
It is set to be the highest-capacity subsea cable in the world (alongside an equally capable cable set to travel around Italy). Google's 340Tbps UK-US Grace Hopper cable currently holds the record.
None of the companies involved have made an official announcement about the new cable. NEC previously announced it was set to develop a 500Tbps, 24 fiber-pair cable for Meta in 2021; though neither the name of the system nor the route were shared at the time.
There are currently no cable landing stations in Santander. Telxius operates a CLS in Sopelana, to the east of Santander, which is the landing point for the Meta/Microsft MAREA cable and Google-owned Grace Hopper system.
DC Blox broke ground on the 15MW CLS in October 2022. Myrtle Beach currently doesn't have any cable landing stations, but at least two other cables are due to land there in the near future.
Announced in 2021, Google's Firmina cable will run from South Carolina in the US to Las Toninas, Argentina, with additional landings in Praia Grande, Brazil, and Punta del Este, Uruguay. The 12-fiber pair cable is named after Brazilian novelist Maria Firmina dos Reis. It is due to launch in 2023.
Confluence 1, from Confluence Networks, will span the US eastern seaboard and run from Sunny Isles, Florida, to Wall Township, New Jersey. It is also due to go live in 2023; both cables are being supplied by Subcom.
Anjana is the name of a type of fairy from Cantabrian mythology that walk forests and rested by streams and springs. The Cantabri were a pre-Roman Celtic people of the north coastal region of Iberia. Añjanā is also the name of a Hindu deity.
Meta is developing a data center campus in Toledo in central Spain.
A version of this story appeared on our Spanish edition.