Microsoft has been given permission to build a 170MW gas power plant for its Dublin data center development, according to reports.
The cloud giant applied in December to build a gas power plant for its €900 million Dublin data center campus which is in development at Grange Castle, according to a report from Business Post. The same site now reports that the application has been approved.
The plant is expected to cost €100 million, and will be used every day to provide power for the data center, as well as supporting it if it has to be taken off Ireland's strained national grid.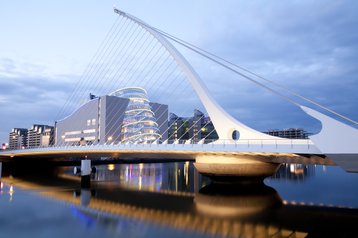 The 'unprecedentedly large-scale" plant will sit alongside 21 backup diesel generators on the site, in an effort to reduce the facility's impact on the grid.
In 2022, Ireland effectively halted new data developments in Dublin, with the utility EirGrid saying no new data centers would be allowed to connect to the grid in Dublin until 2028.
Ireland as a whole says it won't limit data centers, with Climate Minister Eamon Ryan describing them as "a really important, beneficial sector for our country," Last month, Ryan said: "We have a huge advantage of having them here in terms of the potential industries that are based here that come with it."
However, warnings have been given about the amount of energy that data centers will use, possibly taking up renewable energy needed elsewhere, and derailing Ireland's decarbonization target. Ireland's Labour Party has called for a halt to data center development
Microsoft's plans to use gas come in response for new data centers to have their own power source, making them potentially independent of the electricity grid. In Dublin, a campus of three data centers has been proposed which would simply connect to the gas grid, however, Eamon Ryan has previously (in late 2022) announced plans to prevent Gas Networks Ireland from giving data centers a gas-only connection.
Microsoft's Grange Castle plans, approved in 2021, are for two buildings, Dub14 and DUB15, with a combined 56,246 sqm (605,000 sq ft) of floorspace.
Microsoft said it expects the gas plant to run eight hours a day, 365 days a year, to meet the needs of the "utilities flexible demand policy" introduced by the energy regulator since constraints on the national power system first emerged in 2021
People Before Profit councilor Madeleine Johansson has objected to the proposal, saying last year: "While it doesn't add to the congestion of the national electricity grid it will contribute to Ireland's carbon emissions. The plan for a private gas power plant is clearly a way for Microsoft to circumvent the new stricter criteria for data centers in the Dublin Region."
DCD has reached out to Microsoft for more information.
Update: A Microsoft spokesperson told DCD: "The gas power plant at our Dublin data center campus will only be used for backup purposes, and only when we are required to transfer to alternative sources of power when the electricity grid is constrained or experiences an outage."