NEC has launched a new model of its SX-series vector supercomputer and will deploy the new hardware as part of a new system at the Tohoku University's Science Center (Tohoku University).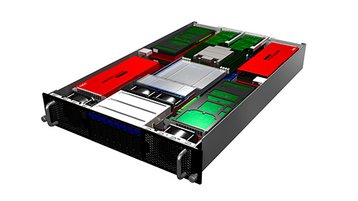 The new SX-Aurora TSUBASA C401-8 modules will be deployed as part of future SX-Aurora TSUBASA supercomputers, which the company said will offer 2.5 times the computing performance and twice the power efficiency of previous models. The number of cores has been increased from the previous 10 cores to 16 cores, and a new L3 cache has been adopted to achieve faster computation performance.
Although most modern CPUs feature some form of vector processing, specialized silicon can offer superior performance when dealing with particularly large and complex datasets. The SX-Aurora Tsubasa (Japanese for 'wing') product family aims to simplify access to vector processing, originally commercialized by supercomputer specialist Cray in the 1970s.
Tohoku University is scheduled to begin operating the new system in August 2023, featuring a total of 4,032 Vector Engines (VE) and a total theoretical computing performance of approximately 21 Petaflops. NEC said this will be the world's highest-performance vector-based supercomputer system.
"Tohoku University Cyberscience Center has been using vector supercomputers since the introduction of 'SX-1' in 1986. The current supercomputer 'AOBA', which has been in operation since October 2020, is also based on the 'SX-Aurora TSUBASA' and has been used by a wide variety of people with consistently high utilization rates. In order to meet this high demand, we have decided to introduce a new generation of SX-Aurora TSUBASA. With this new generation, the Center will continue to contribute to the advancement of science and technology in an even broader and more diverse range of fields," said Professor Takuo Suganuma, Director of the Center for Cyberscience at Tohoku University.
Tohoku University adopted previous versions of the SX Series for applications including manufacturing – including the design of airplanes and power generation turbines – as well as disaster mitigation simulation. Tohoku's Aoba system, launched in 2020, offers 1.8 petaflops of performance, nearly two and a half times faster than the previous system, SX-ACE, which was installed in 2015.
The German Meteorological Agency "Deutscher Wetterdienst" (DWD) is scheduled to introduce a new SX system in September 2023 to augment its weather forecasting system.
"In addition to the newly announced 'SX-Aurora TSUBASA' data center model, NEC will continue to promote systems suited to customers' environments, including on-site models, Edge models, and vector engines. Through these efforts, we aim to expand the use of vector supercomputers and actively contribute to solving issues in society and the marketplace," said Yasuo Mogaki, managing director, Advanced Platform Division, NEC Corporation.
NEC currently has three of its SX vector systems in the top 100 of the Top500 list of most powerful supercomputers. The Earth Simulator at the Japan Agency for Marine-Earth Science and Technology is currently the most powerful of these, offering 9.99 sustained petaflops and a max peak of 13.45 petaflops.
NEC to deploy Supermicro hardware for own 580 petaflops AI supercomputer
This month also saw SuperMicro announce that NEC Corporation had acquired more than 116 Supermicro GPU servers for a new AI supercomputer.
The system is equipped with 116 SYS-420GP-TNAR servers are each equipped with two Xeon Platinum 8358 processors and eight Nvidia A100 80GB GPUs and 119 nodes with SYS-120U-TNR severs each equipped with two Intel Xeon Gold 6342 processors; the company said the new system will offer a performance of more than 580 petaflops.
"Supermicro is thrilled to deliver an additional 580 PFLOPS of AI training power to its worldwide AI installations," said Charles Liang, president, and CEO, Supermicro. "Supermicro GPU servers have been installed at NEC Corporation and are used to conduct state-of-the-art AI research. Our servers are designed for the most demanding AI workloads using the highest-performing CPUs and GPUs. We continue to work with leading customers worldwide to achieve their business objectives faster and more efficiently with our advanced rack-scale server solutions."
The NEC supercomputer for AI research will be used to 'maintain and strengthen the company's reputation' in AI development.
"NEC Corporation is leading the AI revolution by conducting leading-edge research using Supermicro GPU servers," said Takatoshi Kitano, Senior AI Platform Architect at NEC. "The Supermicro GPU server is highly extensible and customizable, allowing the system to flexibly evolve as future AI research develops. We continue to work with Supermicro closely to advance our AI research."