New Saudi firm DataVolt has partnered with Indian water technology firm AquaTech Systems to develop water-efficient data centers.
The two companies this week announced they have signed a Memorandum of Understanding (MoU) for water cooling and recycling technology cooperation and services.
Under the MoU, Aquatech and DataVolt aim to design, construct, and operate data centers equipped with cooling systems they said were tailored to the evolving demands of modern computing technology.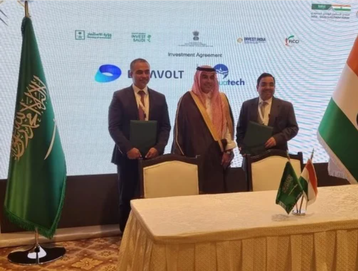 "Through this MoU, we are advancing cutting-edge technology and fostering stronger ties between India and Saudi Arabia," said Venkee Sharma, executive chairman at Aquatech. "Together, we will redefine the standards for data center sustainability and innovation, setting a benchmark for the industry."
The companies said DataVolt's team has "ample expertise" in developing and operating renewable power, cooling, and water treatment and re-usage critical infrastructure, while Aquatech is described as a "leader" in water and process cooling solutions for data centers.
Details about any planned data centers were not shared.
"Through this strategic alliance with Aquatech, DataVolt is poised to revolutionize the data center industry. We are dedicated to pioneering sustainable solutions that not only drive efficiency but also prioritize environmental stewardship," said Rajit Nanda, CEO at DataVolt.
Riyadh-based DataVolt was founded this year. On its website, the company says it has operations in Riyadh, Dubai, and California, but provides no details.
DataVolt is a wholly owned subsidiary of Vision Invest, a Saudi Arabian development and investment holding company focused on critical infrastructure.
CEO Rajit Nanda was previously CFO of ACWA Power, a Saudi-based developer of power generation and desalinated water production plants. Much of DataVolt's board and executive team have joined from ACWA, which is also owned by Vision Invest.
Founded in 1981, Aquatech provides water management technology and services for industrial and infrastructure markets, including desalination, water reuse, and zero liquid discharge (ZLD).