Novva Data Centers is to build a new data center in Reno, Nevada.
The company this week announced plans for a 20-acre data center campus in the Tahoe-Reno Industrial Center (TRIC) in Storey County.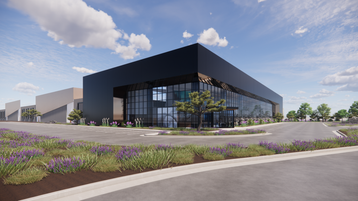 Located at 1 Astro Way in McCarran, Novva Tahoe Reno will offer 60MW of capacity across 300,000 sq ft (28,870 sqm). The facility will include six 10MW data halls and a dedicated on-site 100MW N+1 substation from NV Energy. The facility will open in late 2024.
Novva said the site will include a proprietary water-free cooling system and direct-to-chip compatible cooling, as well as autonomous aerial drone security and robotic dog monitoring.
"Our new tech-forward facility, which we've dubbed Novva Tahoe Reno, will feature all of the hallmarks enterprises have come to expect from Novva's facilities: sustainability, innovation, security, and unrivaled amenities," said Wes Swenson, founder, and CEO of Novva Data Centers. "Storey County is a growing tech hub centrally located to major western cities with access to renewable energy alternatives and attractive sales and use tax abatement programs, making it an ideal location to continue our expansion in the Western US."
Novva was launched in 2020 by former C7 CEO Wes Swenson with $95 million from CIM, initially with plans to develop a $1 billion hyperscale campus in West Jordan, Utah. The company opened the 300,000 square foot (28,000 sqm) first phase of that campus late last year, and targets growing the facility to 1.5 million sq ft (140,000 sq m) over four phases.
In 2021, the company also acquired a 6MW facility in Colorado Springs and announced plans to expand it to 30MW for $200m. 2022 saw Novva announce plans for a 275,000 square foot (25,550 sqm), 100MW data center in Las Vegas.
Last year saw the company raise another $355 million from CIM Group. Novva plans to expand across the United States and expects to offer 1,000MW of data center capacity by 2027 at several yet-to-be-named locations.
"Storey County is an ideal location for enterprises looking to put down roots and data center facilities like Novva's make the area even more attractive to prospective business residents," said Lara Mather, business development officer for Storey County. "Novva's sustainability-first mindset fits well with ongoing environmental initiatives spearheaded by the county. We look forward to welcoming Novva to the tech-rich landscape of the TRIC."
Switch is the largest data center provider in Nevada, with DataBank, EdgeCore, and Deep Edge also having a presence in the state.
Google launched a Nevada-based cloud region in 2020, with AWS launching a Las Vegas Local Zone last year. Apple operates a facility in Reno. Microsoft acquired around 275 acres in Silver Springs, Nevada, last year.