NTT has launched a new data center in Navi Mumbai, India, and quietly recently launched another facility in Mumbai.
The company announced the launch of the new data center in the Mahape area this week; the NAV1A eight-story facility offers 45MW and capacity for around 5,000 racks across 400,000 sq ft.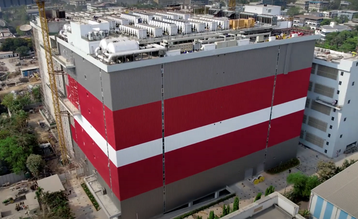 "This, along with our Chandivali campus [in Mumbai], gives clients the unique opportunity to plan their IT across multiple availability zones connected by our Data Center Interconnect (DCI) fabric within the Mumbai region," said Sharad Sanghi, MD of NTT India. "And with the Mumbai landing station for the MISTcable system, connecting Singapore, Myanmar, and India, they will be able to leverage NTT's infrastructure for global connectivity. Our projects are progressing at a fast pace and clients can also look forward to an 'availability triangle' in the Mumbai region with hyperscale campuses in Chandivali, Mahape, and Airoli."
The 8-acre Mahape campus is planned with the capacity for up to four data centers, reaching up to 150MW. Phase one aims to develop 90MW across two buildings.
The company added that it recently launched another facility in the Chandivali area of Mumbai; the 36MW Mumbai 8 offers capacity for 2,800 racks, though this is seemingly the first announcement the company has made about it going live. That campus, which already has a number of facilities live on-site, is due to reach 250MW at full build-out; the 62MW Mumbai 9 is due to go live in Q2 of 2023 and offer capacity for 6,000 racks.
Following the consolidation of NTT India, NTT Communications India, and NTT-Netmagic into one unit at the beginning of 2021, the company last year announced plans to double down on its data center business in the country with new developments in Mahape, Airoli (both Navi Mumbai), and Chandivali in Mumbai.
At the time Sanghi said the company aimed to expand from its current footprint of 1.5 million sq ft (139,000 sq m) across 10 data centers in four cities to 2.5 million sq ft (232,000 sq m), and enter four more cities.
The company has also built a solar power plant in Solapur, Maharashtra, as well as a wind and solar energy plant in Karnataka.
More in Construction & Site Selection