French service provider OVHcloud will be providing customers with a full report of Scope 3 emissions produced by their cloud usage, starting this summer.
The Scope 3 emissions calculation will include all carbon emissions caused by the cloud provider's services used by each customer, including the emissions from OVHcloud's manufacturing and its use of energy. It will be available first to bare metal customers this summer, with reports offered to private cloud customers at the end of 2023, and to public cloud customers during 2024.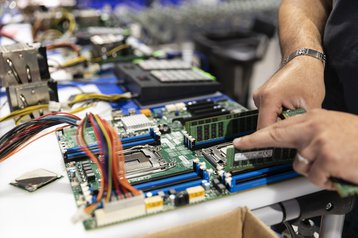 Scope 3 emissions are those produced by a company's supply chain, and are increasingly required in reporting for the EU and other authorities.
"We consider all the environmental impacts from cradle to grave," OVHcloud's environmental product manager Aurore Vaudatin told DCD at a press event this week, at the company's factory at Croix, near Lille. "Because of our vertically integrated model, we know all the components in our servers, and can add the manufacturing impact of each component. We also consider the electricity used by your server, with an emission factor based on the electricity source mix of each country."
The result is a more comprehensive Scope 3 emissions report than those offered by competitors such as Amazon or Microsoft Azure, says OVHcloud: "They don't consider the manufacturing impact which is very difficult for them to calculate."
During the visit, OVHcloud also discussed its cooling technology and its efforts to institute a circular economy. The company makes its own server racks at Croix and ships them to its data center locations, and returns any retired hardware to the Croix factory, for evaluation, testing and reuse. Usable components with no future role at OVHcloud are sold as second-life equipment, while equipment that is no longer usable is sent to asset disposal for raw material recovery.
The company estimates that 40 percent of its servers include second-user components, and it has committed that by 2025, it will be sending zero waste to landfill. OVHcloud's range of OCP-compatible servers also includes second-hand equipment which previously saw use in Facebook data centers.
OVHcloud gave more details of its hybrid cooling technology, announced in 2021, which uses the company's already existing water cooling circulation system to cool CPUs and GPUs while placing the server blade in a sealed unit where a dielectric coolant can cool other components by convection.
The existing water circulation removes heat from the immersion coolant, so the blades still only have two pluggable water connectors, and connect to the latest iteration of the company's water cooling infrastructure.
Asked about the fire which destroyed its SBG2 data center in Strasbourg in 2021, an OVHcloud spokesperson told DCD that the company was still forbidden from talking about the causes.
Acknowledging that OVHcloud has recently been ordered to pay €250,000 damages to two customers that lost data in the fire, the company spokesperson declined to comment further on those cases or others that have yet to be heard, including a class action suit on behalf of 140 customers which was apparently filed in 2022