Panattoni has abandoned plans to build a data center in Borehamwood, London, alongside Pure Data Centres.
The two companies planned and were granted permission last year to develop a three-story, 41,763 sqm (449,500 sq ft) data center due to offer up to 50MW of capacity. Real estate developer Panattoni will instead build more logistics facilities on the site.
A spokesperson for Panattoni, which owns the land the data center had been earmarked for, told the Borehamwood Times this week the deal with Pure Data Centres did not complete. DCD understands this was ultimately due to extended timelines around connecting the proposed facility to the power grid.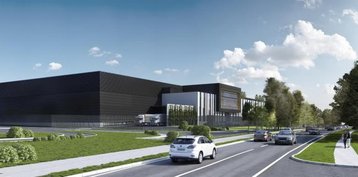 Last year Panattoni and Pure submitted plans to Hertsmere Borough Council to build the facility on former Sainsbury's depot off Elstree Way. The site was most recently a Sainsbury's frozen food depot but, until 1970, it was the site of MGM's Elstree Studio, where films were made including 2001: A Space Odyssey and The Dirty Dozen.
Two adjoining warehouses are already under construction, but Panattoni aimed to demolish these as part of the redevelopment if given the go-ahead. The companies were granted permission for the development in June 2021.
DCD understands plans for the project may have been impacted by the National Grid saying a data center at the location would require a new substation for the area, which would have pushed the development from a 2023/2024 timeframe back to the end of the decade.
The frozen food depot was abandoned by Sainsbury's in 2018, and bought by Panattoni who built two warehouses there on spec. DCD understands that the original change of plan took place when Pure DC proposed a more profitable option and set up a joint venture with Panattoni to demolish them and replace them with a data center.
However, Panattoni has since completed a 159,000 sq ft warehouse that is available to let, alongside a 36,000 sq ft facility which has been let to UK Power Networks. The company has also begun speculatively developing another 142,000 sq ft logistics facility at the site, now known as the Panattoni Park Borehamwood, that is expected to be completed in Q3 2022.
In a press release announcing the new development, Anthony Watkins, Development Director at Panattoni, said: "Panattoni Park Borehamwood is a fantastic location for an urban logistics occupier serving London and an excellent base for a national logistics operation requiring access to the southeast."
Pure DC does not currently have any data centers in the UK, but this would have been its third project in the country. The company built a small data center in Birmingham which was sold to operating partners GTP3.
And it has also been quietly building another large facility only seven miles from the center of London, in Priestley Way, Staples Corner, Brent Cross. This data center, being built for an unknown partner, which could be expanded up to 150MW.
Competition for suitable land and power in and around major metro areas means data centers and logistics companies are increasingly competing for the same properties or development opportunities. Earlier this week a former Speedcast data center in New York was bought for $21 million by a Blackstone-backed logistics firm that plans to demolish the facility to build a new distribution center.
More in Construction & Site Selection