Philippines telco PLDT has broken ground on a new data center outside Manila.
The company announced plans to develop a 100MW data center in Santa Rosa, in the Laguna province last month. This week saw a groundbreaking ceremony led by Chairman Manuel V. Pangilinan, and President and CEO Alfredo S. Panlilio.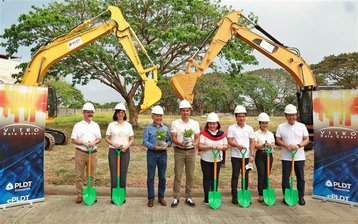 The facility is the 11th data center of PLDT's IT subsidiary ePLDT. To be named Vitro Sta. Rosa, it will reportedly be the country's largest data center campus "by far" and sit on a five-hectare plot.
"The PLDT Group is one with the nation in building a digitally advanced Philippines and making our country the next hyperscaler destination in Asia Pacific. With VITRO Sta. Rosa, we aim to set the benchmark in infrastructure resilience, operational excellence, global competitiveness and world-class sustainability," said Panlilio. "A facility of this caliber only ensures the best possible customer experience not only for our hyperscale clients, but also for the Filipino end-users consuming their services."
PLDT previously said the data center will be designed to be Tier III certified and Tier IV ready and make an 'ideal location' for Availability Zones and Points-of-Presence for hyperscalers.
PLDT has partnered with RED Engineering to co-develop the design of the facility based on global LEED standards and the PLDT Group's UN Sustainable Development Goals, as well as with Meralco to build a dedicated substation on-site.
The Philippine Long Distance Telephone Company has ten facilities, with a combined capacity of 72MW. Last September, Bloomberg reported that PLDT was considering selling its ePLDT/Vitro data center business for around $500 million. However, Pangilinan recently suggested the company had cooled on the idea, following the sale of a large number of cell towers.
More in Construction & Site Selection