Dutch realtor Van Caem and developer Prea Group have revealed details of a 60MW four-story data center campus they plan to build in the heart of Berlin.
First revealed in June, the €1 billion ($1bn) Bluestar project will be built on a "wasteland" site near Rhinstraße 139 in Berlin-Lichtenberg. The largest rentable data center in Berlin, and the fifth largest in Germany, it is due to open in 2026, according to the recent launch event.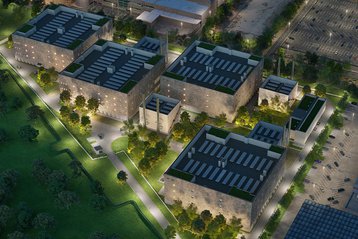 "With the construction permit soon to be granted, we will build a high-performance data center with a capacity of 100MW on the ecologically designed Bluestar campus by 2026, distinguished by energy-efficient cooling, renewable energy sources, and careful waste heat utilization," says the Prea Group's site.
The project details suggest a lower total capacity than 100MW available to IT. Bluestar will have four buildings, each with four stories, and Prea says the buildings will have IT capacities of 4MW per floor or 3MW on the ground floors, adding up to a total of 60MW of power.
The Prea announcement says the campus will have "an output of 100MW and a capacity of 69.5MW planned for commissioning."
The whole campus will offer nearly 30,000 square meters (320,000 sq ft) of IT space, the group says. It will have TÜV certification and ISO accreditation, for security and sustainability, and a 100 percent SLA guarantee.
Prea and Van Caem have promised that the development will share all its waste heat with nearby housing, potentially heating two million square feet of residential, commercial, and hospital space, more than meeting the requirements of the German Energy Efficiency Act, due to be passed by the Bundestag today.
According to Berlin Woche, the project will "directly inject" the heat to local buildings, but the partners have yet to decide whether this will be done by an existing district heating network, or by the partners themselves. The announcement says the partners are confident of meeting the target although "legal hurdles pose a significant challenge." Prea expects to set a "new benchmark" in district heating: "We believe that Berlin will embrace our sustainable approach."
The site will have its own electricity substation to step down grid power from 110kV to 10kV, and will have 32 backup power generators.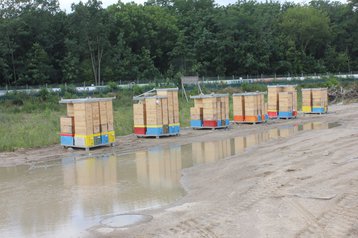 All the electricity will come from renewable energy sources, and the site will use adiabatic cooling, with a power usage effectiveness (PUE) "significantly lower than the generally expected value of 1.3 for data centers," and therefore hopefully meeting Government requirements for a PUE of 1.2 or less, for any data center opened after July 2026.
Bernd Wähner of Berlin Woche, describes the location as a "derelict area, which is located between the Queen Elisabeth Herzberge Evangelical Hospital, Globus Baumarkt, and IKEA on Landsberger Allee." Despite its official address of Rhinstraße 139, it is "a bit off the beaten path next to the Selgros supermarket."
The property belonged to the Republic of Vietnam for many years, and was bought by Dutch investor Harry van Caem in 2015. It currently houses a substantial number of beehives, Wahner reports (see picture).
Van Caem originally planned to build a residential and commercial complex on the site, but switched to a commercial venture because the site is in an existing industrial area. The developer partner, Prea, found a commercial tenant, but they backed off during the Covid-19 pandemic, Gabriel Khodzitski, CEO of PREA, told Wahner.
Apparently, Khodzitski came up with the idea of switching to a data center, a more expensive project with better long-term prospects.
The launch event was also attended by Economics Senator Franziska Giffey who said that the project was needed because the volume of data in Berlin is expected to increase thirtyfold in the next few years.
More in Construction & Site Selection