Princeton Digital Group (PDG) has opened a new data center in Indonesia.
The company this week announced the launch of its 22MW hyperscale data center facility (JC2) in Citibung, Greater Jakarta. It is the company's sixth facility in the country.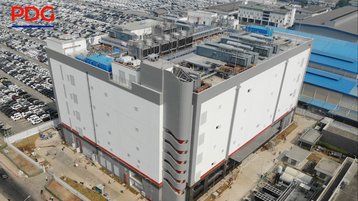 Set on the same campus as JC1, the new 23,850 sqm facility takes the Citibung campus to 35MW.
First announced in August 2021, the $150 million facility was originally set to go live in Q4 2022. PDG recently signed a renewable energy contract with PT Cikarang Listrindo Tbk (CL) to power the Citibung campus with biomass-sourced energy.
"Indonesia is one of the fastest growing economies in the world with a digital economy that is projected to exceed $124 billion by 2025. Underpinned by favorable demographics, the country is witnessing ever-increasing cloud adoption, internet penetration, and e-commerce growth. These tailwinds combined with and amplified by AI will drive accelerated demand in Indonesia," said Varoon Raghavan, COO and co-founder of PDG. "The launch of JC2 further solidifies our position as a leading pan-Asia data center operator enabling sustainable digital infrastructure growth in all the markets we operate in."
Warburg Pincus-backed PDG provides colocation data centers for enterprises & hyperscalers, as well as cloud services. The company is headquartered in Singapore and has more than 600MW of capacity in operation across more than 20 data centers in China, India, Indonesia, Japan, Malaysia, and Singapore.
PDG acquired a 70 percent stake in the data center portfolio of Indonesian telecommunications operator XL Axiata in 2019, giving it five data centers in Pekanbaru, Cibitung, Surabaya, Bintaro, and Bandung.
The company is also developing a four-building, 96MW campus at the Nongsa Digital Park in Batam.