A fire at QTS's New Jersey campus did not affect its data center operations, and will not delay a new building under construction there, the company has said.
The fire, reported last Wednesday, broke out on the roof of a data center building under construction at the QTS site on Possumtown Road in Piscataway. It was extinguished in about two hours by local fire departments, without any injuries.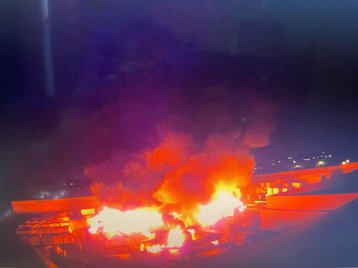 "Early Wednesday morning, authorities responded to a fire on a concrete and steel structure under construction adjacent to QTS' Piscataway data center," said a QTS spokesperson  "The local fire department... fully extinguished the fire shortly after arrival."
QTS has been building a two-story, 90,000 sq ft extension to a data center on the site. The fire broke out in this new construction, and did not spread to the adjacent operational data center, which was unscathed.
The spokesperson explained: "QTS determined that several pallets of roofing material stored on the roof for future installation caught fire. The cause has not been determined. No injuries or customer disruption was reported. The operational data center adjacent to the construction site was not impacted."
QTS bought the data center site from Dupont Fabros in 2016. The 38-acre campus already holds two facilities, as well as the new building under construction. The day before the fire, QTS tweeted an invitation to tours of the site, which is powered by renewable energy.
The New Market Fire Department reported the fire was extinguished with heavy flows of water, and extra care had to be taken due to flammable building materials including "pallets of roofing material including tar."
"Local authorities have indicated there is no longer a safety risk to the construction or production areas of the facility and QTS has resumed normal operations," said the QTS spokesperson.  "QTS does not expect it to impact plans and schedule for expansion of the Piscataway data center campus."
The statement concludes: "QTS appreciates the rapid response by fire authorities to quickly extinguish the fire on the structure under construction."