Quantum Loophole, the company creating a 1GW data center campus in Maryland, has said it has secured four customers so far, totaling almost 250MW of capacity.
Led by former Terremark and CyrusOne executive Josh Snowhorn, Quantum Loophole is developing a 2,100-acre data center campus in Maryland. With aims to create a 1GW campus, Quantum Loophole has previously said it expects to deploy individual data center modules of 30-120MW capacity in less than nine months. The site is due live in 2024.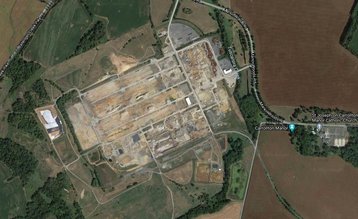 "As of today, we have signed contracts with four different entities representing more than 240MW of phase 1 power on our Frederick campus," Snowhorn said this week.
In May 2022, Aligned Data Centers became the first company to publicly announce plans to develop a data center at the Quantum Loophole campus. Terms of the deal or size of the project were not disclosed.
It is unclear which other companies have leased space at the site, or the scale of each project.
Previously known as Alcoa Eastalco Works, the Maryland site is a former aluminum smelting plant in Adamstown, about 25 miles due north of Ashburn, Virginia.
The Eastalco site opened in 1970 as a plant for the French and Japanese partnership Howmet/Pechiney. Through a series of mergers and acquisitions, the plant was bought by Alumax in 1983 and by Alcoa in 1998. The facility closed in 2010 and demolition of the facility was completed in 2017.
QL is also building a new "massive" fiber ring to connect to the neighboring data center hub of Northern Virginia, on which construction is underway.
While Maryland is currently the company's only project, Snowhorn has previously told Data Center Frontier that Quantum Loophole is laying the groundwork for similar "data center cities" to serve the Dallas, Chicago, and Silicon Valley markets.
"In some areas, we may seek to assemble up to 10,000 acres if we can," said Snowhorn. "We take a very big view of everything. We're doing site selection for everybody and taking care of their problems, including land, water, power, and fiber. And then our customers can just come and deploy capacity. We're the wholesaler to the wholesalers."
More in Construction & Site Selection