A racehorse track in Phoenix, Arizona could be turned into a data center and industrial park.
First reported by BizJournal, developers have submitted a conceptual site plan to the city of Phoenix planning commission to develop an industrial and data center park totaling about 2.6 million square feet (241,550 sqm).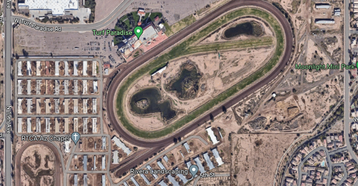 The 213-acre proposal at 1501 W. Bell Road is being submitted by California-based CT Realty. The project, called Winner's Circle Business Park, will total around eight speculative industrial buildings and two data centers.
The larger data center could span 600,000 sq ft (55,740 sqm), while the smaller facility would measure 196,000 sq ft (18,210 sqm). Butler Design Group is listed as the architect in project documents.
The site is currently the Turf Paradise horse racetrack, which has been in operation since 1956. CT Realty has been in the process of buying the site since April.
While most of the site is zoned for a commercial park, CT Realty is in the process of rezoning about 30 acres of the overall property from a ranch or farm residence and intermediate commercial to a commerce park district and general commerce park.
The Deer Valley Village Planning Committee is scheduled to vote on the project on Thursday, while the application is scheduled to go before the city's planning commission on September 7.
The site's close location to a Taiwan Semiconductor Manufacturing Co. (TSCM) chip fab complex is a potential lure.
"We're talking to quite a few Taiwanese and other companies that would hope to locate on the Turf Paradise property to support TSMC," James Watson, a managing partner at CT Realty, told BJ. "Phoenix is also the second-largest data center market in the United States, so we've had a considerable amount of interest and inquiries from data center developers and operators."
Watson said he expects CT Realty to close on the property by the end of this year and start construction on the first phase of the project by Q2 or Q3 2024. The first phase is estimated to be delivered by 2025.
Founded in 1994, CT Realty is an industrial real estate investment and development company focused on logistics and eCommerce developments.
The track was originally set up by Phoenix businessman Walter Cluer. Current Turf Paradise owner Jerry Simms, who acquired the site in 2000, told Axios: "I'd rather spend time with my grandkids."
"Twenty-three years. I'm tired," he added.
In March, Turf Paradise agreed to pay more than $150,000 in fees after the Horseracing Integrity and Safety Authority found some of the racetrack's rails didn't meet safety standards.
CT Realty has said it might hold a shortened race season in 2024, but the track isn't due to reopen this year as previously announced by Simms.
According to Axios, CT Realty has already changed the plans for the racetrack since April. The site was previously set to be known as the Moon Valley Business Park and feature residential properties as well as industrial warehouses and a data center.