The Raxio Group has broken ground on the construction of its fifth data center, and Côte d'Ivoire's first Tier III-standard carrier-neutral colocation data center.
The data center is expected to be ready for service in the second half of next year.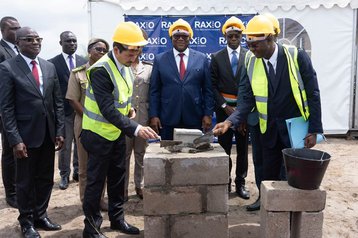 Raxio marked the breaking of the ground with a ceremony at the site, located at the Village of Innovation and Technology (VITIB) in Abidjan, Côte d'Ivoire.
This ceremony was attended by members of the Ivorian Government, led by His Excellency the Minister of Communications and Digital Economy, plus local officials, members of Raxio's Board of Directors, the Group CEO, and Raxio's local team in the Côte d'Ivoire - alongside partners, customers, and representatives from the media.
Construction of the data center comes just after a year that DCD reported on African data center operator Raxio's plans to build a Tier III data center in the Ivory Coast.
It's Raxio's first data center in Western Africa, with the company confirming that its Abidjan data center will "scale as customer needs grow", with the capacity to accommodate approximately 800 racks and deliver 3MW of IT power.
Regional hub for Western Africa
Raxio says its newest data center will be able to meet the demand of customers across the spectrum from SMEs to hyperscale CDNs, while the location of its data center is strategically located to serve the West African Economic Monetary and Economic Union (WAEMU), which includes Benin, Burkina Faso, Côte d'Ivoire, Guinea-Bissau, Mali, Niger, Senegal, and Togo.
"Abidjan is the ideal position for organizations and businesses from across the WAEMU to colocate their mission-critical infrastructure in a professionally managed, highly reliable facility – and Raxio is proud to be building the first of its scale and caliber in the region," said Raxio Group CEO Robert Mullins.
"Thanks to its location, our facility here at VITIB is planned to incorporate renewable energy feeds allowing us to provide our services in the least impactful way to the environment, our drive to build sustainable projects is strong and we're pleased that Raxio Côte d'Ivoire will provide another example."
Raxio Côte d'Ivoire is the latest to join the Raxio Group portfolio, with the company recently breaking ground in Maputo, Mozambique, where it's constructing a Tier III quality facility set for launch next year.
The company also broke ground in September on a new data center in Kinshasa, in the Democratic Republic of Congo (DRC), which is another Tier III-quality carrier-neutral colocation data center. Raxio also has data center developments in Ethiopia, Tanzania, and Uganda.
More in Construction & Site Selection