Scala Data Center has commenced operations at its new Rio de Janeiro data center.
The Brazilian data center provides a hyperscale capacity of 7.2MW and currently houses one anchor tenant.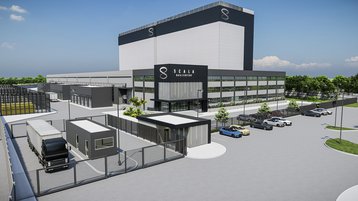 The SGIGSM01 facility is located on the São João do Meriti campus, which will offer 55MW of IT capacity at full build-out.
The new data center was built using Scala's 'FastDeploy,' a proprietary design and construction methodology using modular structures that have been manufactured by Modular Data Centers. The company claims this allowed it to deploy 'in record time', with construction starting in August 2022 and finishing in April 2023.
The SGIGSM01 was first announced alongside the launch of FastDeploy in September 2022.
"Our newest baby bringing light to a once dark place for hyperscalers," CEO Marcos Vinícius Peigo said on LinkedIn. "Rio de Janeiro is now also enabled into the future!"
Scala currently has five operational data centers across Brazil, offering a total capacity of 50MW. The company has another five facilities planned for 2023, three of which are for the São Paulo Tambore campus, another in Jundiai, and the last in Campinas.
The company was formed by Digital Colony (now DigitalBridge) in 2020. Since then, Scala Data Centers has expanded across Latin America.
In October 2022, the company received a license to build a $400m campus in Chile with a total capacity of 120MW, and the next month signed a 1.6GW power purchase agreement (PPA) with Enel Americas for its data centers in Chile, Peru, and Columbia.
More in Construction & Site Selection