Shell has joined GRC's program to certify alternative cooling fluids for its data center immersion tanks.
By joining GRC's ElectroSafe Fluid Partner Program, Shell will expand the options for customers wanting to choose which fluid to use when filling GRC tanks, which support energy-efficient liquid cooling for servers.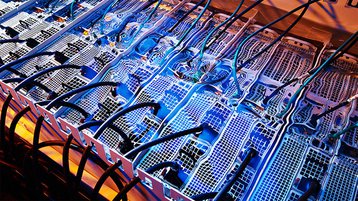 Shell is the first partner to join the program which was launched earlier this month.
"We are excited to welcome Shell as the first member of GRC's ElectroSafe Fluid Partner Program, and we look forward to expanding our mutual advocacy efforts," said Ben Smith, chief product officer at GRC. "Shell and GRC's collaboration provides the data center industry with two established players, and the ability to scale globally, while also leveraging key IT OEM partners throughout the data center ecosystem."
Immersion cooling removes heat from IT equipment efficiently and silently, reducing energy wasted in cooling. It can handle higher rack power densities, as seen in new applications such as AI, and it also outputs the waste heat in a more useful form (hot water) than air-cooling, which is standard in data centers.
Despite this, immersion cooling has been taking off slowly, and in niche applications such as high-performance computing (HPC) and cryptocurrency mining, as it represents a major change to data center designs, and could be expensive as a retrofitting operation.
There are signs that liquid cooling is making big progress, however. This week, Meta canceled a data center project in Odense, Denmark, and is understood to be rethinking a number of major projects as it quickly shifts to a different AI-focused data center architecture. This is understood to include liquid cooling, according to a Meta announcement at this year's Open Computer Project summit.
GRC's ElectroSafe scheme is intended to provide an increased range of liquid coolants, that will be "earth-friendly", and have been thoroughly tested with the company's immersion tanks. GRC's own branded ElectroSafe coolants are globally available and, in the program, Shell and GRC will jointly evaluate and gather fluid test data to optimize compatibility, safety, and thermal performance for other coolants.
"Shell is delighted to become a member of GRC's ElectroSafe Fluid Partner Program," said Ade Ajala, vice president global key accounts & new business, Shell. "As single-phase immersion cooling offers performance, cost, and sustainability benefits driving increased adoption, we believe combining GRC's advanced cooling systems with Shell's leading edge immersion cooling chemistry will provide an excellent solution for data centers worldwide."