Singapore is looking to launch a pilot phase where it will accept a limited number of data center applications, marking the beginning of the end of the city-state's moratorium on new developments.
Singapore has had a moratorium on new data center projects since 2019 amid a dearth of space and energy. This month the Singaporean government said it would finally relax the restrictions, but set new conditions. Previous reports suggested new sites might be limited to around 5MW.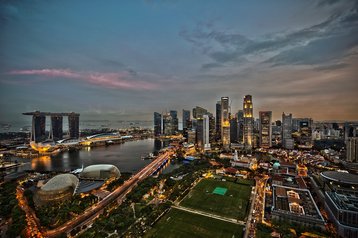 W.Media reports that at a virtual meeting held by SGTech this week and featuring government agencies including the Economic Development Board (EDB), JTC, Urban Redevelopment Authority, and Infocomm Media Development Authority, the local government outlined its strategy for relaxing the current moratorium.
New applications for new data centers will commence from second quarter of 2022, but only a maximum of three applications will be approved during this pilot phase with capacity ranging from 10MW – 30MW, according to the W Media report.
The government has mandated that PUE for the data centers should be 1.3 and below. The application criteria must include innovation and sustainability solutions and applicants with a track record in building and operating data centers in Singapore will be considered favorably. The government will evaluate in the next 12-18 months after this pilot phase.
Government agencies may have land designated for data centers but are open to considering applicants' options in other sites. A consortium comprising various data center stakeholders may also be considered in the application.
In a constrained market where developers are keen to build, the news is likely to result in a wave of new applications. The meeting was reportedly attended by 'major data center service providers and internet companies.'
Data centers contribute to Singapore's growth, but must be sustainable, said Minister Gan Kim Yong, in a written answer to Parliament on Tuesday, Jan 11. Though development will now resume, the government will impose measures to make them more efficient, he said. This meeting marks the first hint of what those measures will be.