Recently-founded wholesale colocation provider Stack Infrastructure has bought an enterprise data center near Columbus, Ohio, with room on the site to build a second facility.
Stack has announced it bought a 120,000 sq ft (11,150 sq m) campus that houses a Tier III data center with 17 acres of unused space for an undisclosed sum. From images on the Stack's site and other sources, DCD has determined this is a data center in the Columbus suburb of New Albany, previously belonging to Nationwide Mutual Insurance The data center was built 11 years ago in 2008 at a cost of about $96m.
Golden Triangle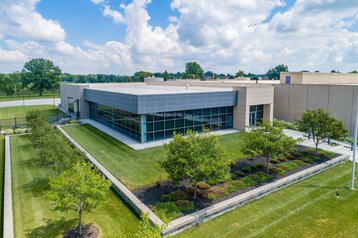 "We're very excited to expand our footprint into this strategic market as it gains momentum in the data center world," said Brian Cox, chief executive officer of Stack. Situated within the "Golden Triangle," the area linking Northern Virginia, Northern New Jersey, and Chicago, the data center site is ideally placed because of its high US data traffic, said Stack.
Still a relatively young firm, Stack offers purpose-built centers on its campuses for wholesale clients. Back in February, it announced its intentions to acquire three new data centers and since then has built two facilities in Chicago and Portland.
End of expansion?
This recent acquisition is its third, so could mark the final chapter in Stack's $850m chapter of expansion.but the company has so far made no mention of stopping any further growth.
IPI Data Center Partners (IPI) spun Stack off after merging five facilities from T5 Data Centers with three from Informart, back in January. IPI itself is a joint venture between real estate investor Iron Point Partners and Iconiq Capital, a wealth management firm whose clients include some of Silicon Valley's biggest names including Facebook's Mark Zuckerberg and LinkedIn's Reid Hoffman. It has become one of the major new investors in the US data center industry, since it was created in 2016.
Mystery
DCD is pretty certain of the identity of the data center that Stack has purchased - the satellite images confirm it - but one mystery remains. While Stack says it's bought a Tier III data center, the Uptime Institute lists the Nationwide Mutual data center as certified to Tier IV, back in 2012.
Stack declined to confirm the identity of the seller.