A new cable linking Greece to Israel has been announced.
Tamares Telecom and Grid Telecom this week announced the Andromeda cable that will connect Israel, Cyprus, and Greece.
Cable capacity and landing points, investment amount, and project timelines weren't shared.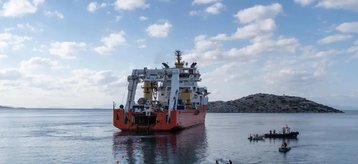 Tamares Telecom operates a landing station in Tirat Hacarmel in Israel and is present at the Yeroskipos CLS in Cyprus, with a presence in facilities in Marseilles, London, and Frankfurt. The company also owns the Tamares-North submarine cable linking Israel with Cyprus, which was launched in 2012, and is being extended further to Marseille and mainland Europe. The company is owned by Israeli infrastructure investment firm Aluma Infrastructure Fund alongside private investment firm Tamares Group.
Established in January 2019, Greece's Grid Telecom is a wholly-owned subsidiary of the Independent Power Transmission Operator (IPTO) of Greece. The telco operates around a dozen data centers. Grid's fiber optic terrestrial and subsea network spans around 4,000km and is set to increase to beyond 6,000km in the coming years as it connects Greek islands with the core network.
It operates the Minoas East and West cables between the Greek mainland and Crete and is set to launch the Apollo East & West cable next year.
Ori Yogev, chairman of Aluma Infrastructure Fund, said: "Tamares Telecom is continuously developing and extending its national and international infrastructure. Our collaboration with Grid Telecom to build and operate the Andromeda system will add explicit value to our robust reach in Europe and the Middle East."
Manos Manousakis, chairman and CEO of IPTO, added: "IPTO is building critical infrastructure for tomorrow's electricity and telecommunications backbone networks throughout Greece and beyond, contributing to Greece's transformation into a critical energy and data hub of high geopolitical value at the crossroads of Europe, Africa and Asia."
Last year Grid announced plans to develop a cable landing station (CLS) in Crete, inked a memorandum of understanding with Cinturion to be its landing partner in Greece for the upcoming Trans Europe Asia System (TEAS) cable, and build a new subsea cable to Egypt in partnership with Telecom Egypt.
Aluma's other investments include Tiber Communication Towers and energy firm Esco Israel. Tamares Group's investments include Foris Telecom, KNL Networks, EcoStream, and Tower Vision. It also previously invested in Mellanox.