Norwegian telecommunications company Telenor and local energy company Hafslund are establishing a joint venture to build data centers in Oslo, Norway.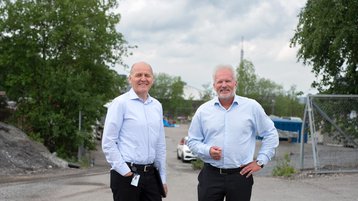 Telenor and Hafslund plan to build three multi-tenant colocation data centers in the Oslo region with a combined capacity of 40MW. Further details of locations, along with a name for the new venture, weren't shared.
Construction of the first facility is expected to commence later this year. Telenor will place some of its own infrastructure in the facilities, and cryptocurrency miners will not be welcome at the facilities.
The company has also been backed by HitecVision, an energy-company investor in Europe, and Analysys Mason, a consulting agency specializing in telecom, media, and technology. Ownership of the new company is split equally between Telenor, Hafslund, and HitechVision, each with 31.7 percent, while Analysys Mason holds the remaining five percent.
Sigve Brekke, CEO of Telenor, said: "Data centers are, in many ways, the digital heart of any business. This is where the data flows to and from, which involves high quality, security, and energy efficiency requirements. Together with Hafslund and partners, we will now establish Norway's most secure commercial data center operator, with a strong focus on sustainable solutions."
State-owned Telenor has operations across the Nordics and Asia. Fully owned by Oslo municipality, Hafslund is a green energy and infrastructure group based in Oslo.
"Backed by Norwegian-managed capital, this partnership will help resolve a significant issue in an increasingly digital society. Norwegian security authorities have requested the establishment of data centers and cloud services for sensitive information, functions, and infrastructure of importance to national security interests in Norway," said Brekke. "By creating this company, we are facilitating that sensitive data across sectors is stored and delivered safely on Norwegian soil."
According to Finn Bjørn Ruyter, CEO of Hafslund, the data centers will also be built with heat reuse in mind and will help Oslo and Norway to meet their climate goals.
"Establishing these data centers will be an important contribution to enabling Norway's green transformation and digitalization. With solutions to reuse excess heat, the data centers will free up power consumption for heating and thus provide energy-efficient solutions necessary to reach Oslo's and Norway's climate goals", he said.
Stack's Oslo data center is also connected to the Hafslund-owned district heating system. As of September 2022, OSLO1A, an 8MW data center, provides heating for 5,000 homes in the Norwegian capital.
In April 2023, the Norwegian Government announced new regulations in the Electronics Communications Legislation. These regulations saw all data center operators in Norway required to register and provide information about their operations, and to comply with the same security requirements put on the telecoms industry.
Earlier this year, Telenor was in talks with CK Hutchison over the possibility of consolidating their respective businesses in Denmark and Sweden, though neither company has formally commented on the matter. The company's Pakistan business has been struggling over the past year, and in February 2023 said that it expected this market to be an ongoing challenge.
More in Construction & Site Selection