A Telesat satellite is running out of fuel after thruster anomalies required it to use more than expected.
The Anik F2 satellite has been operating under a workaround mode for the past year after two of its four station-keeping thrusters suffered an anomaly. One of the thrusters failed while another is operating in a constrained way.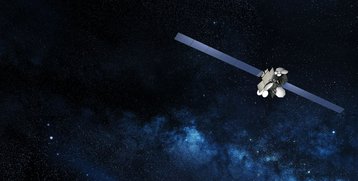 During the company's earnings call last week, Telesat president & CEO Dan Goldberg said the workaround required Anik F2 to use fuel faster than planned, which reduced the time it could maintain its position in geostationary orbit.
"We expected this approach would allow us to provide station kept service until 2025. But it now appears that we can only maintain station kept service until the end of this year, at which point the satellite will be put in inclined orbit," he said.
Goldberg said after that orbit change, services currently supported on the satellite will be adversely impacted. Some will be impacted as early as next February, while other services will degrade over time depending on the size of the antennas receiving signals from the satellite.
"As a result beginning next year, we expect Anik F2 revenues will decline if we can't find alternative ways to support the services," he added.
Potential mitigation strategies for Anik F2 including adding tracking antennas at a number of Telesat sites, which would extend the service life for some customers, repointing customer antennas to alternate Telesat satellites or to third party capacity.
"We're working closely with our Anik F2 customers and with government officials here in Canada on this effort, as most of the services on the satellite are provided in Canada," Goldberg said.
The company said Anik F2 & related ground services represent around 8 percent of its revenue, around CAD 50 million. Telesat estimates it will lose around one-third of Anik F2's revenue in 2023.
Some of the lost revenue could be offset by reselling freed-up capacity for mobility services that Anik F2 would be able to support in an inclined orbit.
There is still no known cause behind the failure and the satellite was not insured at the time, Telesat spokesperson Lynette Simmons told SpaceNews.
Launched by Telesat Canada in 2005, Anik F2 was the heaviest commercial telecommunications satellite ever launched at the time. The 5,950kg Boeing machine offers connectivity speeds of up to 1.5Mbps.