A UK university has moved its data out of the country to aid its sustainability efforts.
The University of York has migrated its data to the EcoDataCenter in Falun, Sweden, as part of its ambitions to reach net zero.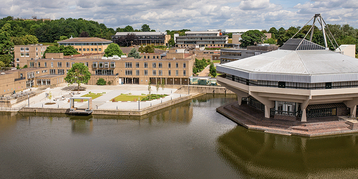 "Given the university's strong commitment to net-zero and the fact that our high-performance computing facility will be used for climate research, we were happy to find a partner with a clear focus on environmental sustainability and the capability and maturity to deliver," said Richard Fuller, assistant director at the University of York.
The determining factor in this move was to give the university access to sustainable infrastructure for high-energy-consuming IT, such as AI, machine learning, and high-performance computing (HPC). The university was looking at its next iteration of HPC and struggled to find a colocation facility that could meet its requirements locally, thus turning to the Nordics.
According to the University of York, this move has reduced its emissions from data by around 98 percent.
EcoDataCenter and the University of York will also work together to raise knowledge about the increased sustainability requirements for HPC.
"Sustainable research IT is a key principle of the University of York. In addition to optimizing the performance of both hardware and software, we need to look at the environmental impact of our work. We have to ask ourselves how we can contribute to positive change by making our supercomputing part of the 'Green HPC' movement," said Dr. Emma Barnes, head of research IT at the University of York.
The Falun campus was launched in 2018 and in its first phase offered up to 80MW over 35,000 sqm (377,000 sq ft). In March 2022, plans for an expansion were announced that involved investing SEK 1 billion ($102m) in a new 15MW facility.
Earlier this year, EcoDataCenter announced its plans for a new 150MW data center campus in Östersund, Sweden. The company was formed as a joint venture between local energy company Falu Energi & Veatten, as well as EcoDC AB. The JV operates five data centers across three sites in Falun, Pitea, and Stockholm.
The University of York was one of the three universities chosen by the UK government for a $135 million investment in ramping up 5G and 6G research. Each university received £28 million ($34m) to help design and develop 6G network technology with selected vendors.