US Signal has opened its data center in the Van Buren Township along the outskirts of Detroit.
The official launch occurred on March 1. The 25,000 sq ft (2,300 sq m) facility is the second US Signal data center to be built in the Greater Detroit Area. Eventually, the site will be expanded out to around 100,000 sq ft (9,000 sq m). The site is also designed to Uptime's Tier III standards, according to the company.
The site's security also comes with various security measures such as storm and emergency response plans.
When DCD reported on US Signal's initial announcement back in 2018, the facility was due to be online by 2019. The data center will now be built-out to around 100,000 sq ft over four to seven years - depending on client interest and demands.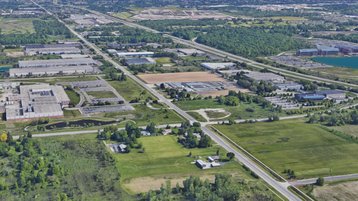 The development is located on an eight-acre plot on Haggerty Road in an adjacent industrial area. Reports say the facility will have one dedicated employee.
Dave Wisz, US Signal's executive VP of operations, said: "US Signal has experienced an incredible increase in demand for off-premises services and hybrid cloud solutions, both in Michigan and across the region.
"This validates our decision to strengthen our local capabilities with edge data center locations as neighboring businesses continue to thrive and seek off-premises solutions and regional IT resources.
The Grand Rapids-based firm said it was already signing customers before the data center opened.
The facility will also feature US Signal's Cloud Pod, enabling private and multi-tenant cloud hosting. Deploying this within a data center adjacent to client hardware, allows them to get private connections to US Signal Cloud resources, or direct connection to hyperscale providers.
These Cloud Pods will be rolled out to US Signal's other data centers this year, starting with its Indianapolis, Indiana and Oak Brook, Illinois sites.