Vantage Data Centers is planning a massive new campus in Cyberjaya, Malaysia.
This week Cyberview, the state-owned company tasked with developing a Cyberjaya tech hub, announced Vantage will be investing $3 billion in developing a second data center campus in the city.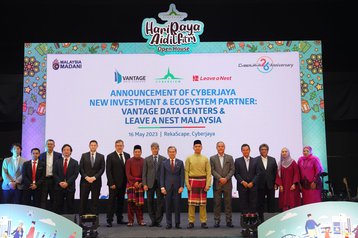 Vantage signed an agreement with Cyberview at a recent event in the city to formalize the investment.
The 35-acre campus, known as KUL2, will offer up to 256MW of capacity across 10 buildings and 2.76 million sq ft (256,000 sqm). The campus will feature a 500MVA N+1 substation from Tenaga National Berhad (TNB).
The precise location of the campus wasnt shared. In its own announcement, Vantage said the first facility is planned to open its doors in Q4 2025.
Dr. Mohd Hafiz bin Ibrahim, acting managing director of Cyberview said: "The agreement with Vantage marks an important milestone for Cyberjaya and sets the stage for the city as an ideal location for hyperscale data center providers. Currently, 90 percent of colocation providers in Malaysia are based in Cyberjaya, leveraging our world-class infrastructure with dark fiber connectivity."
Giles Proctor, chief operating officer of Vantage's APAC business, added: "Vantage has been expanding our footprint in Malaysia since we entered into the dynamic Asia-Pacific market. Our positive experience in Cyberjaya has encouraged us to take further steps to advance the city's digital infrastructure by building our largest hyperscale campus in the region,"

DigitalBridge-owned Vantage entered the APAC market in 2021 after DigitalBridge acquired PCCW's data center business and merged both it and AgileDC into Vantage. The original KUL1 site was taken over by Vantage as part of the PCCW acquisition.
At full build-out, the 6-acre KUL1 campus will offer 31MW and 463,000 sq ft (63,000 sqm) across four buildings. The four-story KUL12, the second building on the campus, was completed last year, with work on the third building, KUL13, beginning at the same time.
Vantage has also confirmed that work on the fourth and final building at the campus is underway and will offer 16MW once complete.