Verizon has unveiled a new vehicle that provides the full functionality of its wireless network directly to customers.
Called the Mobile Onsite Network-as-a-Service (NaaS), the solution delivers a private network, private mobile Edge compute (MEC), SD-Wan, and satellite connectivity to customer locations.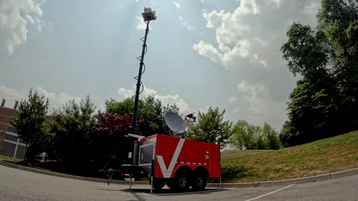 Verizon notes that the trailer has been developed with dual-core network capabilities supporting both 4G and 5G standalone functionality, and is 10 sq ft in size.
The trailer also provides 5G and Edge computing that can be managed locally by enterprise and public sector customers for enhanced operational flexibility just about wherever they need it.
Verizon confirmed the first deployment of the Mobile Onsite NaaS is at Lockheed Martin's campus in Waterton, Colorado.
According to the carrier, it was able to set up the entire solution at the site in a few hours, while it was able to complete testing over a satellite communications connection during the same period.
The purpose of the vehicle is to collect sensor data and video providing key performance indicators to assess network operations, notes Verizon.
"By delivering the mission-critical connectivity that our network provides to customer locations, we are demonstrating how 5G and Edge computing can help customers address their strategic priorities and continue to develop advanced solutions," said Srini Kalapala, SVP for technology and product development at Verizon.
"A private network on location delivers the high-speed, high-capacity, and low-latency needed for various applications as well as greater privacy and security."