Global Switch's data center in Paris caught fire, causing Google services in Europe to go down.
The fire appears to have been caused by a cooling system water pump failure that caused water to leak into the battery room, which sparked a fire, according to a post to the French Network Operators Group. We will update this story as we learn more specifics.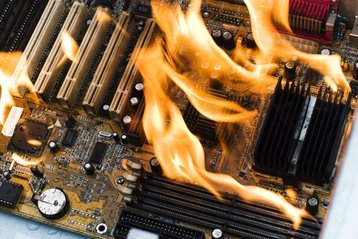 "A fire incident has occurred in a room at one of the two data centers in our Paris campus this morning," Global Switch said in a statement.
"The Fire Brigade has been in attendance and the fire is now contained. The fire response systems in the building have performed as designed and no one has been injured. A number of customers have been temporarily affected and our site team is working to restore services to those customers as soon as possible."
Customers impacted include government websites and services run by Courbevoie, Lille, Saint-Brieuc, Cannes, and the department of Saône-et-Loire. Lyon Aéroports' website is also impacted, along with sites run by French consulates and embassies.
Google Cloud services run out of the europe-west9-a region have been brought down. "Water intrusion in a data center in europe-west9 has caused a multi-cluster failure and has led to a shutdown of multiple zones," Google said on its status page.
"We expect general unavailability of the europe-west9 region. There is no current ETA for recovery of operations in the europe-west9 region at this time, but it is expected to be an extended outage. Customers are advised to failover to other regions if they are impacted."
Local hosting provider Ecritel also uses the data center, with some of its services unavailable. Outages have been reported at Orange and Ubisoft games, but it is not known if they are related.
The extent of the damage to the data center is not yet known.
The fire comes a month after another data center in France burned down. Data center fires continue to plague the industry, causing huge damage and even the loss of life.
What was probably the industry's most notable incident also occurred in France, when OVHcloud's data center in Strasbourg burnt down in 2021. The company is still dealing with the fallout from the incident, after it was revealed OVH stored backup servers in the same data center, and accidentally wiped some of the drives it was able to uncover from the wreckage.
In South Korea, a lithium-ion battery fire was to blame for a KakaoTalk outage that caused chaos in the country, while a power room issue caused a small fire at an Equinix data center.