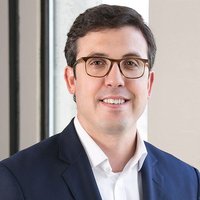 Andrew Power
Chief Financial Officer
,
Digital Realty
Andrew (Andy) Power is the Chief Financial Officer of Digital Realty (NYSE: DLR) and is responsible for the company's financial functions, including financial reporting, capital markets, tax, financial planning and analysis, as well as global asset management operations.
Prior to joining Digital Realty, Andy served as Managing Director of the Real Estate, Gaming and Lodging Investment Banking for Bank of America Merrill Lynch, where he was responsible for relationships with over 40 public and private companies, including Digital Realty. Prior to Bank of America Merrill Lynch, Andy was employed by Citigroup, where he held similar positions. During his career, he has managed the execution of public and private capital raises in excess of $30 billion, including the largest REIT IPO to date, and more than $19 billion of merger and acquisitions transactions. Andy was part of the lead underwriting team that advised Digital Realty on its initial public offering in 2004 and served as a lead manager on nearly every subsequent public capital raise.
He received a Bachelor of Science degree in Analytical Finance from Wake Forest University.