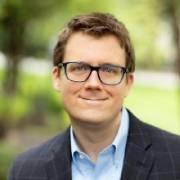 Brian Marrs
Director, Energy Markets (EMEA), Global Strategy & Execution
,
Microsoft
Business leader with 10+ years of experience advising Fortune 100 companies and policymakers on key strategic & organizational challenges. Passionate about innovative solutions to market challenges posed by new technologies and business model change. Proven track record in leading organizations and delivering actionable strategies for business development. Global experience in the United States and abroad (Europe, Middle East) with new business evaluation, execution and management.

Core competencies include: energy market analysis, investment evaluation, financial modeling, technology assessment, quantitative analytics, power system economics, utility ratemaking, power contract negotiations, energy policy analysis, utility ratemaking, statistics, technical writing, public speaking, and regulatory strategy.
Brian is Director, Energy Markets for Microsoft Cloud Infrastructure and Operations (MCIO), which is the engine that powers Microsoft's cloud services. The team is responsible for designing, building and operating our unified global datacenters; managing the demand planning and capacity utilization of our unified infrastructure.